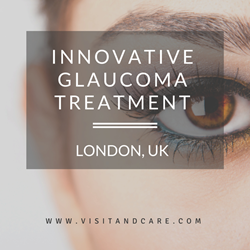 We have partnered with LondonOC because they are dedicated specialists at the forefront of their specialty.
Chicago, IL (PRWEB) July 14, 2015
With the rapid evolvement of ophthalmology management over the last few years, the LondonOC (The London Ophthalmology Centre) is at the forefront of eye care treatment. The leading ophthalmology clinic is now offering the most innovative treatment available today — XEN Gel Implants.
As international leaders in glaucoma treatment, the VisitandCare.com laser eye care provider in London is excited about the growth of new surgical options, tools and techniques for managing glaucoma.
"We have partnered with LondonOC because they are dedicated specialists at the forefront of their specialty. It's an honor to work with experts who continue to enhance medical science, but also provides patients the most advanced eye care, and access to sight-saving treatments and therapies for virtually any eye disorder," stated Tolga Umar, CEO And Founder of VisitandCare.com.
Innovative Measures in Glaucoma Treatment —
It is estimated that over 60 million individuals worldwide suffer from glaucoma. With this overwhelming statistic, the UK's top ophthalmology clinic recognizes the prominence of innovation, and has implemented the latest technology to treat glaucoma — the leading cause of irreversible blindness.
The clinic now offers XEN Gel Stent, an innovative 2 minute procedure using a 6mm implant. Developed by AqueSys, this new technology was designed to deliver significant IOP control, and reduce the risk of further vision loss.
The XEN Gel Stent creates a new permanent pathway to reduce the amount of fluid in the eye. This helps preserve vision by reducing the pressure in the eye to a normal level. The collagen-derived, gelatin implant is approved in the European Union for use with or without cataract surgery.
LondonOC Now the Central Hub for Eye Surgery —
Led by Dr. Sharma, the LondonOC comprises of experienced ophthalmologists who hold fellowships with the Royal College of Ophthalmologists. Eye care surgery is performed by leading retinal, cataract, and glaucoma specialists, along with the full support of plastic surgeons, and dermatologists to ensure the best possible care.
The ophthalmology center in London offers cataract surgery, glaucoma treatment, LASIK eye surgery, cosmetic eyelid surgery, pterygium surgery, and facial aesthetics.
The team at LondonOC believes that quality is achieved through continuous improvement and monitoring of performance — based on the experience of clients and the outcome of treatments. All treatment outcomes are audited in a continuous pursuit of excellence in clinical practice and client services.
About VisitandCare.com
VisitandCare.com was created to give individuals worldwide valued direction locating a doctor, obtain free medical treatment quotes, and uncover affordable medical treatments at destinations of their choice. Improving Patients Lives |The company provides access to exclusive doctors and hospitals who specialize in infertility, plastic surgery, cosmetic dentistry, laser eye surgery, orthopedic surgery, hair transplantation, weight loss surgery, heart surgery and cancer care. Patients are matched with devoted multilingual patient facilitators and provided tangible connections to doctors worldwide. Promoting Your Healthcare Brand | For the ultimate connection between the healthcare industry and patients worldwide, the company delivers an unrivaled commitment to create sustained value for medical partners. Contact VisitandCare.com to see if you are eligible to become a partner of our exclusive network.