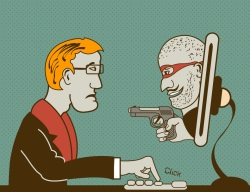 having the convenience of the cloud without the information leaving your home or small office network
Newton, Mass. (PRWEB) July 17, 2015
On July 9, the New York Times reported the hacking of the Office of Personnel Management computers has affected 21.5 million current, former and prospective government employees. The theft consisted of social security numbers, addresses, background investigation records, health history, financial information and irreplaceable fingerprints. As a result of the breach, OPM Director Katherine Archuleta has resigned according to the CNN story from July 11.
"The massive breach provides a stark reminder that people need to be vigilant about where they store and share their personal information," says George Tatar, founder and CEO of Akruto, Inc., developers of AkrutoSync™, Windows® PC software that privately and directly syncs Outlook Calendars, Contacts, Tasks, and Notes across unlimited devices. "While employees don't have a say about keeping their personal information out of OPM's computers, everyone can take steps to limit where they store sensitive information."
"For example, individuals and businesses have taken to using the cloud like iCloud, Outlook.com and Google Calendar to make it easier to store and access information," says Tatar. "Unfortunately, even with all the firewalls, malware scanners and other protections in place, the information can still be leaked. Most of all, nothing can protect systems from human actions, intentional or not. It reinforces the need for us as individuals to regain control of our private information by limiting the use of cloud-based applications that hold our most private information such as emails, calendars, contacts, and notes."
"Yes, using tools like Outlook.com for managing email, calendars, and contacts simplifies our lives as we can access this information from any device or computer," Tatar says. "But it stores your information out there in the world that can be hacked from anywhere. Switching back to Outlook for Windows puts your information back in your hands as it's stored locally on your computer and devices. While home computers can be hacked, you're not at the mercy of a company that hackers may go after. Hackers like to mine information from the biggest sources possible."
"People can still have the convenience of anywhere access when they use a tool like AkrutoSync to automatically and privately sync their information between Outlook and devices over SSL-encrypted Wi-Fi or Internet connection," Tatar says. "So it's like having the convenience of the cloud without the information leaving your home or small office network. Furthermore, Akruto doesn't install any apps on smartphones or tablets like other software products do. It simply acts as a transporter of information as it moves Outlook calendar and contact information to a connected device's own built-in calendar and contacts apps and vice versa. As long as the computer is connected to the network, Akruto automatically and continuously syncs Outlook Contacts, Calendar, Notes, and Tasks with user-selected devices while ensuring privacy."
The full version of AkrutoSync, available at http://www.akruto.com/get-akruto-sync/, is free to try for seven days. A one-time fee of $34.95 supports a single PC and unlimited use with iPhone, iPad, iPod Touch, Windows Phone, Windows Surface, and Android devices and tablets. The company provides 24/7 support, which can be reached at support(at)akruto(dot)com.
About Akruto, Inc.
Akruto develops software for individuals and small businesses that want to synchronize Microsoft Outlook with smartphones and other mobile devices. Its engineers have extensive experience in data management and share a strong commitment to protecting data privacy. The company's solutions offer a reliable way to sync smartphones with Outlook contacts, calendar, notes and tasks without using the cloud, delivering a higher level of privacy. The company's flagship product, AkrutoSync, includes support for Android, iOS and Windows phone platforms. Founded in 2010 and headquartered in Newton, Mass., the company maintains a website at http://www.akruto.com. Media inquiries should be directed to media(at)akruto(dot)com.
Contacts
George Tatar, 617-299-0094
george.tatar(at)akruto.com
Meryl K. Evans
meryl(at)akruto(dot)com
###