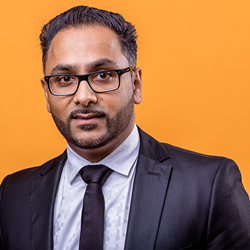 The Lifetime Achievement Award nomination is a complete and total honour.
Montreal, QC (PRWEB) June 02, 2016
OPM Pros Co-Founder and CEO Paresh Vadavia has been recognized as a Finalist for the 2016 Rakuten Golden Link 'Lifetime Achievement' Award. While he won the Publisher Choice Award in 2008, a nomination for the Lifetime Achievement Award is an exciting first for Vadavia.
"The Lifetime Achievement Award nomination is a complete and total honour," says Paresh Vadavia. "I look back with fondness at the relationships I've created over the years with the Rakuten Affiliate Network. I am absolutely thrilled and am looking forward to being recognized at what will be my 11th Symposium New York."
With a background in marketing and club promoting, the affiliate marketing space was a perfect fit for Vadavia to shine. He began his affiliate marketing career in 2006 as Affiliate Manager for Ice.com and Diamond.com. In two short years, he made a name for himself thanks to his hard work, dedication, and networking skills. These qualities, among others, led to Paresh winning Rakuten Marketing's Golden Link Publisher Choice Award in 2008 and earning a nomination for the same award the following year.
After early recognition from his peers, a demand from retailers for his unique and effective methods of promotion, and establishing incredible relationships with many of the top affiliates, Vadavia decided to make the leap from employee to entrepreneur along with his childhood friend Sonny Lamba. What began as a two-man operation has grown into a 50+ person agency responsible for driving billions of dollars in sales for some of the internet's biggest retailers.
Realizing that attendees of major affiliate marketing conferences had nowhere to go the night before the main event, Vadavia created PareshConnect, which has been held at various venues across the country to encourage relationship building in the industry. Since its inception in 2009, PareshConnect has become the official kickoff party to many events and has helped retailers and affiliates worldwide build relationships and drive revenue.
Vadavia and team have been nominated and won many prestigious awards over the last 7 years, but this nomination is very special as Vadavia is being recognized by the network where he started his affiliate marketing career.
The 2016 Rakuten Marketing Golden Link Awards will bring together more than 350 people representing leading Advertisers, Publishers, and Agencies to celebrate excellence and innovation in the performance marketing industry, and will be held on Wednesday, June 22, 2016 during Rakuten Marketing's Symposium New York. For more information about Symposium New York and to register, visit the Rakuten Marketing website or view this video from last year's awards ceremony.
About OPM Pros
OPM Pros is an award-winning, full-service digital marketing agency. With origins in affiliate marketing, the company has grown to offer expert services in Paid Search, Display Advertising, SEO, Web and Mobile Analytics, Creative Services, and others. Based in Montreal and led by Co-Founders Paresh Vadavia and Sonny Lamba, OPM Pros is counting a team of 50+ employees, a client roster of 100+ retailers across the globe, and multiple awards recognizing vision, innovation, and financial performance of OPM Pros in the affiliate marketing field.
See more at OPMpros.com.