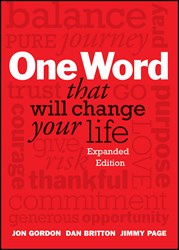 "Clutter and complexity lead to procrastination and paralysis, while the simplicity and focus of One Word leads to success and clarity."
Hoboken, NJ (PRWEB) November 06, 2013
Over a decade ago, Dan Britton and Jimmy Page discovered a better way to start the New Year and the solution to failed resolutions and unrealized goals. It's simple –and all it requires is just One Word.
No goals. No resolutions. Just one word.
In an expanded second edition, "One Word That will Change Your Life" (Wiley; October 2013; Hardcover & e-book; ISBN: 978-1-118-80942-6) by Jon Gordon, bestselling author of "The Energy Bus," Britton and Page, is beautifully illustrated in full-color and includes even more stories demonstrating the impact of embracing the One Word call to action and outlines six new dimensions to the Action Plan.
One Word explains how to simplify one's life and business by focusing on just ONE WORD for the entire year. The simplicity of choosing one word makes it a catalyst for life-change. Clutter and complexity lead to procrastination and paralysis, while simplicity and focus lead to success and clarity.
Gordon, Britton and Page explain how a person's word will impact the six dimensions of their life—mental, physical, emotional, relational, spiritual, and financial - and offer an action plan to help readers discover that word using these three steps:
1. Prepare your heart. This is where readers take action to strategically disengage from the hectic pace of life and look inside. Eliminating noise and clutter properly prepares them for the work at heart. The authors demonstrate easy, practical ways to create some space and get ready for a personal One Word.
2. Discover your word. This step helps readers ask simple questions to find their word. The authors believe that there is a word meant for everyone and they guide readers on the pathway to discover it. Readers will learn the four key questions to ask that will reveal their word.
3. Live your word. This is the fun part. The authors help readers experience their word and apply it to every area of their life. This step will inspire readers along the journey as they live their word with purpose and passion every day throughout the year.
The book also includes examples of companies, such as Pepsi and Hendrick Auto, school teachers and students, sport teams, including The Atlanta Falcons, the Chinese Olympic speed skating team, University of Georgia Football and the Oklahoma University Women's basketball team, and families that have benefited from the One Word mindset.
"Other resolution solutions are good and well-intentioned, unfortunately they build on a flawed foundation of more effort, willpower, and goal-setting," says Britton. "They tell us to set 'do' goals instead of 'be' goals. Instead of being weighed down with unrealistic resolutions and unmet goals, One Word provided a whole new perspective on how we approach our year. It freed us up. One Word gave us renewed purpose and meaning."
"One Word that will Change Your Life" inspires clarity, power, passion and life-change in readers. When each person finds their word, they are encouraged to live it and share it and soon they will find that their lives have become more rewarding and exciting than ever.
About the Authors
Jon Gordon is a best-selling author and keynote speaker whose books and talks have inspired readers and audiences around the world. His principles have been put to the test by numerous NFL, NBA, and college coaches and teams, Fortune 500 companies, school districts, hospitals and non-profits. He is the author of The Wall Street Journal bestseller The Energy Bus, The No Complaining Rule, Training Camp, The Shark and The Goldfish, Soup: A Recipe to Nourish Your Team and Culture, The Seed, and his latest, The Positive Dog. Jon and his tips have been featured on The Today Show, CNN, Fox and Friends, and in numerous magazines and news¬papers. His clients include The Atlanta Falcons, Campbell Soup, Wells Fargo, State Farm, Novartis, Bayer, and more. When he's not run¬ning through airports or speaking to businesses, hospitals, or school leaders, you can find him playing tennis or lacrosse with his wife and two "high energy" children.
Dan Britton serves as the Fellowship of Christian Athletes' Executive Vice President of International Ministry and Training at the National Support Center in Kansas City. He has been on FCA staff since 1991, first serving for 13 years in Virginia and most recently as the Executive V.P. of Ministry Programs. He played professional indoor lacrosse for four years with the Baltimore Thunder, earning a spot on the All-Star team, and was nominated by his teammates for both the Service and Unsung Hero awards. He has co-authored two books, WisdomWalks and WisdomWalks SPORTS, and he is the author and editor of nine FCA books. Dan is now a frequent speaker at schools, organizations, churches, conferences, camps, conventions, and retreats. He still plays and coaches lacrosse and enjoys running, even doing the Boston Marathon a couple times. He is married to Dawn, whom he met in youth group in eighth grade, and they reside in Overland Park, Kansas, with their three children: Kallie, Abby, and Elijah.
Jimmy Page serves as a Vice President of Field Ministry and the National Director of the Health & Fitness ministry for the Fellowship of Christian Athletes. Growing up in the snow-country of Rochester, New York, he became a three-sport athlete in high school and went on to graduate with two degrees from Virginia Tech. For nearly twenty years, he has been a leader in the health and fitness industry, operating wellness facilities affiliated with Sinai Hospital and Johns Hopkins. Jimmy is also a certified Nike Sports Performance Coach and hosts a radio program called Fit Fridays, blending spiritual, mental, and physical health principles that promote abundant life. He and his wife, Ivelisse, started a cancer foundation called believebig.org following her victory over cancer. Jimmy has co-authored three books, WisdomWalks, WisdomWalks SPORTS, and PrayFit. Jimmy is a frequent speaker at schools, churches, camps, and retreats and a trainer for corporate, sports, and nonprofit organizations, challenging people to maximize their life and make a difference. Jimmy and Ivelisse were college sweethearts, and they reside in Maryland with their four children: Jimmy, Jacob, John, and Gracie.
For additional information about the book, please visit GetOneWord.com.
###