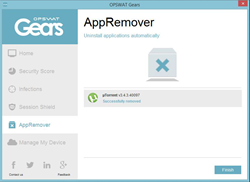 Using AppRemover through Gears gives administrators the ability to define unwanted application categories based on their own security needs.
(PRWEB) April 22, 2015
OPSWAT, provider of solutions to secure and manage IT infrastructure and endpoints, today announced the addition of their popular AppRemover tool to Gears, OPSWAT's platform for endpoint visibility and security management. AppRemover provides detection, classification and one-click removal of installed software. AppRemover was originally developed in order to easily uninstall security applications; a common use case is removing one antivirus product before installing a new one. According to Adam Winn, Senior Product Manager for Gears, "Running more than one anti-malware product on your system at a time can lead to performance issues, system crashes and even false positives. Because of the way antivirus drivers work, running more than one at a time can create conflicts that destabilize the system. Users often install multiple antimalware products after being infected, and while okay during cleanup it shouldn't be maintained long-term. After removing malware, users are happy enough to move on and neglect to also remove the extraneous antimalware software. Furthermore, antivirus removal itself can often be tricky."
That said, the tool is not limited to removing security software; the AppRemover feature in Gears is capable of automatically removing over 1000 different applications. Winn hails the additional feature as a major upgrade, adding that "Using AppRemover through Gears gives administrators the ability to define unwanted application categories based on their own security needs. For instance, some firms use file sharing services as part of their normal operating procedures, while other organizations define them as risky applications and discourage—or entirely ban—their use." He went on to explain that Gears provides very accurate detection of installed and running applications, with visibility to all endpoints, managed or unmanaged, thus giving organizations the ability to identify, enforce and remediate Windows devices for reduced risk.
CEO Benny Czarny expressed excitement about introducing OPSWAT's 4,000,000+ AppRemover users to the additional features the Gears application provides, especially its NAC integration and multi-layered approach to detecting infections that might be missed by the installed antivirus product. According to Czarny, "Gears is equally useful for home users and IT professionals. Providing enterprise-grade security features for free in an easy-to-use format allows anyone to improve their own device's security. IT professionals can integrate Gears into their network access control solutions to automate enforcement of very granular allowable application policies." He went on to discuss how Gears also scans running processes daily via OPSWAT's Metascan® Online technology to check devices for running threats using 40+ anti-malware engines.
In addition to these features, the Gears application provides the ability to measure the security state of devices via a numeric value intended to provide a quantifiable measure of device risk. This provides visibility to the status of installed security applications, including antivirus, antiphishing, firewall, patch management and more, making it easy to ensure all security tools are active and configured correctly.
The free Gears tool for individual endpoints is available for download at http://www.opswatgears.com/download. Adding AppRemover to Gears for Mac is planned for mid-2015. In the interim, Mac users can take advantage of the device security and anti-malware scanning features of Gears. Users wishing to manage multiple devices, or create a cost-free proof of concept for a larger deployment, should register for the Gears management platform here to manage up to 25 devices.
About OPSWAT
OPSWAT is a San Francisco-based software company that provides solutions to secure and manage IT infrastructure. Founded in 2002, OPSWAT delivers solutions that provide manageability of endpoints and networks, and that help organizations protect against zero-day attacks by using multiple antivirus engine scanning and document sanitization. OPSWAT's intuitive applications and comprehensive development kits are deployed by SMB, enterprise and OEM customers to more than 100 million endpoints worldwide.
About Gears
Gears is an endpoint visibility and security platform for compliance that provides advanced posture checking and detection of compromised machines, both for in-network devices and for remote users. Gears helps identify threats that the installed antivirus does not detect or cannot remediate, and provides management and monitoring for all types of endpoint applications, including antivirus, hard disk encryption, public file sharing and more for security baseline compliance and configuration drift.