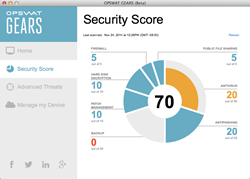 Providing system visibility directly to Mac users has been a major goal for OPSWAT, so for me this is one of the most important GEARS releases to date.
San Francisco, CA (PRWEB) November 25, 2014
OPSWAT today announced the release of a free security tool for Mac devices. Previously only available to Windows users, this new interface extends the capabilities of the GEARS cloud-based security management platform to individual Mac users and their computers. The new tool provides a numeric Security Score for the device, which is intended to provide a quantifiable measure of security and device risk based on the configuration of everything from installed antivirus and anti-phishing tools to the presence of potentially dangerous file-sharing applications. This simple visualization of the device's security status empowers users to regularly review and adjust their settings: providing consolidated visibility to all of the security applications on a given device decreases the likelihood of misconfigured or missing applications going unnoticed.
The Security Score visualization provided by GEARS is accompanied by robust threat detection features designed to work alongside a Mac device's installed anti-malware software. Since no single anti-malware solution can detect 100% of malware 100% of the time, GEARS leverages OPSWAT's Metascan Online technology to quickly scan the device with 40+ anti-malware engines, alerting users to potential threats present on their machine that the installed anti-malware software didn't detect or couldn't remediate.
This multi-scanning process is augmented by GEARS' advanced pattern matching capability, which analyzes the history of threats detected by the installed anti-malware software to determine which threats are occurring repeatedly. After thoroughly examining the threat detection logs, GEARS notifies the user of persistent threats on their computer—which are often difficult to detect and can indicate a high-level security breach.
The release of this tool is particularly well-timed, given the recent emergence of WireLurker, an unprecedented piece of malware that has successfully infected both Apple OSX and iOS devices. Adam Winn, Product Manager for GEARS, expressed excitement about the latest release: "Today's user needs to be aware of the security status of their machine at all times—whether they are on a Mac or a PC. No one is immune from the threats presented by this generation of malware. Providing system visibility directly to Mac users has been a major goal for OPSWAT, so for me this is one of the most important GEARS releases to date."
Home users or IT professionals with multiple devices can also connect to the GEARS cloud management dashboard, to access more features and centrally view and manage up to 25 devices for free.
To download the GEARS tool for Mac, please visit https://www.opswatgears.com/download#mac.
__________
About OPSWAT and GEARS
OPSWAT GEARS is a platform designed to provide IT and security professionals with advanced compliance and threat detection capabilities. Beyond providing visibility into applications like antivirus, hard disk encryption and public file sharing, GEARS allows administrators to effortlessly enforce endpoint compliance and detect infections. GEARS can be easily integrated with network or data access solutions to protect an organization's resources.
OPSWAT is a San Francisco-based software company that provides solutions to secure and manage IT infrastructure. Founded in 2002, OPSWAT delivers solutions that provide manageability of endpoints and networks, and that help organizations protect against zero day attacks by using multiple antivirus engine scanning and document sanitization. OPSWAT's intuitive applications and comprehensive development kits are deployed by SMB, enterprise and OEM customers to more than 100 million endpoints worldwide.
To learn more about OPSWAT's innovative and unique solutions, please visit http://www.opswat.com.
Contact:
Adam Winn
GEARS Product Manager, OPSWAT Inc.
398 Kansas St.
San Francisco, CA 94103, United States
Office: (415) 590-7300 x329
Fax: (415) 590-7399
awinn(at)opswat(dot)com