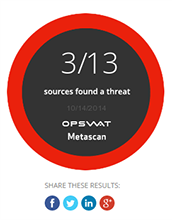 Cyber-attackers are employing increasingly sophisticated means to steal data, and it can make the average consumer feel powerless.
San Francisco, CA (PRWEB) October 23, 2014
OPSWAT today announced the official launch of a new component for Metascan Online, an IP scanning feature that allows users to inspect websites for threats and malicious behavior using multiple IP reputation sources. It is designed to work in conjunction with Metascan Online's cloud-based multi-scanning malware detection features to provide a layered defense against today's constantly evolving threats.
With IT security leader AV-Test identifying over 450,000 new malware exploits each day, even the most vigilant internet users could fall victim to an attack launched by visiting a seemingly innocuous website. IP scanning allows consumers to make informed decisions before clicking an unfamiliar link, checking it against 13 different IP reputation sources to see if the given IP address has been flagged as suspicious. The reputation sources examine the website looking for common security threats, including botnet infected websites, phishing attacks, and other types of malware.
OPSWAT CEO, Benny Czarny, stated that "cyber-attackers are employing increasingly sophisticated means to steal data, and it can make the average consumer feel powerless." He went on to mention his excitement that IP scanning "provides users with another tool they can use to protect themselves."
Internet forum members, for instance, often spend extensive amounts of time reading and commenting on information shared via website links. However, this valuable resource for online community building is a frequent target for attack. Malicious individuals can infiltrate communities to spread malware by purposely linking to infected websites. IP scanning can be an excellent first line of defense when forum users receive a link from an unknown person, enabling them to ensure the website they plan to visit is malware free and not hosting any malicious binaries.
OPSWAT's user base has embraced the new IP scanning functionality wholeheartedly. In fact, two new community applications utilizing the feature have already been created. The first is an extension for Firefox that allows for in-browser IP Scanning, as well as inspection of files for malware using Metascan Online's multi-scanning functionality. The second is a SMTP transport agent for Microsoft Exchange Server 2008. The Metascan Online Public API is used for IP scanning, allowing networks to reject connection if the remote IP is detected as malware.
Other features added during beta testing include the ability to scan domain names as well as IP addresses so it is no longer necessary to look up the IP address in order to complete the scan, and an experimental confidence level that rates the reliability of the scan results from a given reputation source. Each source receives their own confidence score out of 100, so a higher score signifies a greater likelihood the scan results are correct.
The industry-leading reputation sources currently included in OPSWAT's IP Scanning feature are Alien Vault, Brute Force Blocker, Chaos Reigns, Clean MX, Dragon Research Group, Feodo Tracker, Malc0de, Malware Domain List, OpenBL, Phish Tank, Spy Eye Tracker, The Spamhaus Project and Zeus Tracker.
__________
About Metascan Online
Powered by OPSWAT's Metascan technology, Metascan Online is a free online scanner that scans files for malware using more than 40 commercial anti-malware engines from leading security vendors such as Kaspersky Lab, McAfee, AVG, Avira and many others. The Metascan Online API allows users to programmatically upload and scan files or to search for previous scan results using a file's hash (MD5, SHA1 or SHA256). By utilizing the hash lookup functionality, users can easily see if the file has previously been scanned by Metascan Online and get the scan results without sending the file over the Internet to be scanned.
OPSWAT is a San Francisco-based software company that provides solutions to secure and manage IT infrastructure. Founded in 2002, OPSWAT delivers solutions that provide manageability of endpoints and networks, and help organizations protect against zero-day attacks by using multiple antivirus engine scanning and detailed file filtering.
OPSWAT's intuitive applications and comprehensive development kits are deployed by SMB, enterprise and OEM customers to more than 100 million endpoints worldwide.
To learn more about OPSWAT's innovative and unique solutions, please visit http://www.opswat.com.