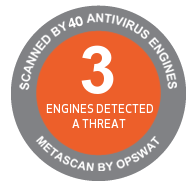 The large database of millions of available hashed viruses ensures that scan results can be delivered to users even more quickly.
San Francisco, CA (PRWEB) February 25, 2014
OPSWAT today announced that Metascan Online, an online file scanning service utilizing 40 commercial anti-malware engines, has scan results for millions of malware files in its database. The large database of malware hashes and results allows users to quickly retrieve detailed scan results for their files, including popular Android, Mac and Windows binaries.
Metascan Online, OPSWAT's cloud-based multi-scanning solution, uses OPSWAT's Metascan technology to quickly scan files for malware using 40 anti-malware engines simultaneously. With tight integration of engines from Avira, AVG, ESET, Bitdefender and many other leading vendors, as well as a rapidly growing database of millions of hash results, Metascan Online provides the fastest, most comprehensive results for static file analysis.
OPSWAT also makes a public API available for Metascan Online, allowing users to integrate hash look-up and file upload capabilities into their own security processes to obtain scan results. The increasing size of the Metascan Online database makes this API extremely useful for both IT professionals and malware researchers; scan results can be retrieved very quickly and with limited strain on network resources.
"The growth of the Metascan Online database to millions of malware hashes adds tremendous value to our offering and is a great accomplishment for OPSWAT," said Tony Berning, Senior Product Manager at OPSWAT. "The large database of available hashed viruses ensures that scan results can be delivered to users even more quickly."
OPSWAT also recently announced the winners of their first-ever Metascan Online programming competition. University students built applications leveraging OPSWAT's Metascan Online API to demonstrate the value of using multiple antivirus engines to scan for malware. Winning submissions are featured on the Metascan Online website.
To upload files to scan or to learn more about Metascan Online, please visit https://www.metascan-online.com. More information about the Metascan Online API is available at https://www.metascan-online.com/public-api. For further information or inquiries about commercial use of Metascan Online, please visit opswat.com/about/contact-us or visit OPSWAT at RSA Conference 2014 in booth #2531.
-------------
OPSWAT is a San Francisco based software company that provides solutions to secure and manage IT infrastructure. Founded in 2002, OPSWAT delivers solutions that provide manageability of endpoints and networks, and that help organizations protect against zero day attacks by using multiple antivirus engine scanning and file filtering. OPSWAT's intuitive applications and comprehensive development kits are deployed by SMB, enterprise and OEM customers to more than 100 million endpoints worldwide. To learn more about OPSWAT's innovative and unique solutions, please visit http://www.opswat.com.