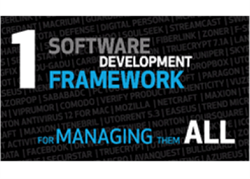 Near instantaneous new application and state detection
San Francisco, CA (PRWEB) November 18, 2014
OPSWAT today announced the release of the next generation of the OESIS Framework. The open development framework enables a variety of actions including detection, management, assessment and remediation of endpoints. With all this our leading OEMs now deliver enterprises even more state of the art vulnerability and risk management protection while ensuring both endpoint and network security compliance requirements are being monitored and enforced.
The new version of the OESIS Framework, V4, which now incorporates OPSWAT's AppRemover SDK, provides software engineers and technology vendors the ability to develop various solutions with comprehensive endpoint posture checking features. In addition to detecting and determining the status of installed security applications, the OESIS SDK now includes the ability to thoroughly remove unwanted endpoint applications and detect application vulnerabilities by identifying software version discrepancies. The new features provide enhanced endpoint compliance checks to ensure devices are more secure by eliminating potential vulnerabilities.
The new vulnerability assessment module in OESIS can be used to assess the vulnerability of the most commonly used applications such as Adobe Readers and Players, Backup, Internet Browsers, and Oracle Java that are top targets for cyber-attacks. OESIS quickly detects and assesses whether these applications are up-to-date or exposed to potential security threats. The new module can be utilized in SSL VPN, NAC, Antivirus Device Management and other security solutions to scan an endpoint to determine device vulnerability, and is fast enough to be run prior to allowing network access.
Dell SonicWALL, a current OESIS customer, looks forward to utilizing the auto-update mechanism and smaller hard disk space requirements of the new OESIS version. "The reduced package size of OESIS will make it easier to deploy our solution to many endpoints," said Vishal Pandey, Senior Engineering Manager at Dell Software Ltd. "Our users will enjoy the faster deployment and significantly reduced download times, and near instantaneous new application and state detection the new OESIS SDK provides."
The new version of OESIS delivers more than ten times faster performance and a smaller memory footprint than its predecessor, as well as the ability to automatically update product support on endpoints through optional cloud integration. The latest version also incorporates a Removal module, formerly the AppRemover SDK, which provides the ability to silently and thoroughly remove potential unwanted (PUA) or non-compliant applications. Solutions powered by this Removal module enable network administrators to detect and classify certain unwanted applications such as public file sharing before granting network access. The Removal module also has the ability to uninstall unauthorized applications from an endpoint to ensure the device remains compliant with existing security policies.
Leading security OEMs use OESIS to create solutions that:

Check and remediate endpoint compliance
Assess endpoint vulnerability
Detect, disable and remove potentially unwanted applications
The flexibility of the OESIS Framework allows the technology to be seamlessly integrated into various solutions such as endpoint security applications, client management tools, help desk support tools and secure remote access and network access control solutions to help address and fix enterprise IT challenges. OESIS Framework V4 now powers the network security management platform OPSWAT GEARS. In the latest GEARS release, the cloud-based solution transitioned to V4 to take advantage of faster endpoint assessment and remediation capabilities. With the upgrade to V4, GEARS is able to quickly ensure remote and managed devices are secure and compliant.
OPSWAT offers a free OESIS Endpoint Assessment Tool for network administrators and developers, which demonstrates the detection and manageability capabilities of OESIS V4. The tool displays two modes: a standard mode allows network administrators to view, configure and manage installed endpoint applications, and the developer mode allows developers access to the JSON formatted data object used to communicate between OESIS and endpoint solutions. Additionally, the OESIS Endpoint Assessment Tool offers an "Add Product Support" feature, which allows customers and users to quickly and easily submit information about applications that need to be detected by OESIS. New product detection and support is added continuously to OESIS and released daily.
For more information on the next generation of OESIS, please visit https://www.opswat.com/products/oesis-framework. For additional licensing options and inquiries, please contact the OPSWAT sales team.
Supporting Materials:

__________
About OPSWAT
OPSWAT is a San Francisco-based software company that provides solutions to secure and manage IT infrastructure. Founded in 2002, OPSWAT delivers solutions that provide manageability of endpoints and networks, and help organizations protect against zero-day attacks by using multiple antivirus engine scanning and detailed file sanitization. OPSWAT's intuitive applications and comprehensive development kits are deployed by SMB, enterprise and OEM customers to more than 100 million endpoints worldwide.
To learn more about OPSWAT's innovative and unique solutions, please visit https://www.opswat.com.