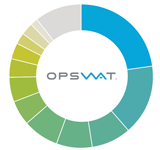 The addition of the perceived threat detection section to our quarterly reports shows that installed antivirus software products are frequently alerting users to potential threats.
San Francisco, CA (PRWEB) January 29, 2014
OPSWAT today announced the release of their quarterly market share report which includes analysis of the leaders in the antivirus vendor and antivirus product market worldwide. In addition to antivirus market coverage, the report includes new interactive features and additional coverage categories including perceived threats detected by the installed antivirus software and available hard drive storage space.
OPSWAT has issued their quarterly market share reports for the last four years, providing a wide range of information including antivirus, backup, peer-to-peer, hard disk encryption and operating system usage worldwide. The latest quarterly report includes a new look that offers enhanced visualization of the data provided by OPSWAT.
This quarter's market share report focuses on the leaders in the antivirus vendor and antivirus product market worldwide, with Microsoft leading in both categories. The antivirus section also looks closely at Malwarebytes, which is included in OPSWAT's report for the first time. The data shows Malwarebytes being frequently installed as an additional layer of protection along with another antivirus product.
This quarterly report also provides a new section on perceived threats that are detected by the installed antivirus software. A perceived threat does not indicate that a machine is infected, but that a response was triggered by the installed antimalware program. According to the market share report, more than one fifth (21%) of all devices had at least one perceived threat in the last seven days.
"The perceived threat detection section is a great addition to our quarterly reports," said Derek Bass, Marketing Project Manager at OPSWAT. "The data shows that installed antivirus software products are frequently alerting users to potential threats."
An additional category in the report also highlights the percentage of corporate and home devices that have peer-to-peer applications (e.g. BitTorrent, uTorrent) installed. The report found that nearly half of all corporate devices had a peer-to-peer application installed. This information may come as a surprise considering these are categorized as unwanted applications by most organizations and may conflict with their network policies.
The data used in OPSWAT's quarterly report is collected using the detection capabilities of OPSWAT GEARS technology. The cloud-based solution provides greater visibility and manageability into the installed security applications on a device, including antivirus, firewall, hard disk encryption and many other security applications. In addition to managing devices, GEARS allows users to automatically remediate issues such as enable firewall protection or update antivirus definitions and remove unwanted applications to remain compliant with network policies.
For more information regarding this report please contact marketing(at)opswat(dot)com. For more information about OPSWAT or any of the products listed in this release, please visit opswat.com/about/contact-us to get in touch with an OPSWAT representative.
------------
About OPSWAT
OPSWAT is a San Francisco based software company that provides solutions to secure and manage IT infrastructure. Founded in 2002, OPSWAT delivers solutions that provide manageability of endpoints and networks, and that help organizations protect against zero day attacks by using multiple antivirus engine scanning and detailed file filtering. OPSWAT's intuitive applications and comprehensive development kits are deployed by SMB, enterprise and OEM customers to more than 100 million endpoints worldwide. To learn more about OPSWAT's innovative and unique solutions, please visit http://www.opswat.com.