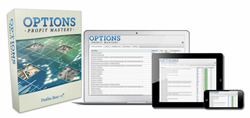 Traders have more time to be right, because they don't need to use the tight stops that are so important with regular stock trading.
New York, NY (PRWEB) December 31, 2014
An Options Profit Mastery review states since the severe market shocks of the 2008/9 Financial Crisis from which many economies have only recently begun to recover, investors have been looking for a way to minimize their exposure to risk. This is particularly true when it comes to stock market trading, where losses can be significant and occur with little warning. However, the major appeal of stock trading is often the size of the returns that can be made in a relatively short period of time; too much insulation from risk can result in underwhelming returns and defeat the purpose of trading in stocks. This is why for many, options trading can be a good compromise. Investors can use options trading to limit their exposure to risk, while still enjoying sizable profits.
Out of this climate, Bill Poulos' Options Profit Mastery options trading program, which teaches aspiring traders how to hedge against risk in the stock market by trading in options, was released earlier this week with limited enrollment. In introductory training videos for the course, Poulos explains the importance of risk management in stocks trading and outlines the fundamentals of his options trading strategy. These videos also cover the basic options trading concepts of Protective Put Options', Straddling', and Directional Trading with Call Options'.
Enrollment in the program includes access to more detailed training modules on options trading than are provided by the introductory videos, as well as nine new options trading strategies (in addition to the three already covered in the introductory videos). Also included is access to custom web-based software, which identifies the best candidates in the market for applying Poulos' Options Profit Mastery strategies to, based on trends in the market that day.
Bill Poulos highlights that his Options Profit Mastery program strategy helps to ensure that you won't miss out on upturns in the market as you perhaps would with regular stock trading, due to an approach which lets you ride out market bumps over a longer period. According to Poulos, with his strategy "traders have more time to be right, because they don't need to use the tight stops that are so important with regular stock trading". This can make options trading a good choice for those interested in profiting from long term investments.
For those worried about the market being skewed by to many subscribers applying Poulos' strategy, he highlights that his program only identifies high volume stocks and ETFs for options trading, which are less vulnerable to significant buy/sell fluctuations, and are also good targets for options trading. Additionally, enrollment places have been capped to prevent any potential market-affecting over subscription to Poulos' program from occurring.
Poulos claims that using his Options Profit Mastery is kind of like throwing a life preserver around every trade. But he is also careful to highlight that his strategy is not the "holy grail of trading" and that "there will always be risk where there is potential reward". Instead, Poulos rather responsibly markets his program as one of the better programs out there for incrementally building net worth while hedging against market volatility.
Registration for Poulos' Options Profit Mastery program can be seen here at the official website
For a complete review of the program one should visit the link here http://covertforexops.com/reviews/options-profit-mastery-review