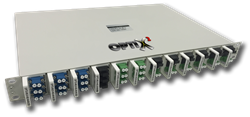 "maXimux embraces the best aspects of LGX, while reducing the footprint by 75% and providing 4 x the density!"
Durham, North Carolina (PRWEB) May 26, 2016
Today, OptiX2 announced the general availability of maXimux, a Next-Generation (NG) passive optical networking (PON) platform. MaXimux is a 12-slot, single rack unit (RU) chassis that supports virtually any passive optical device including CWDM and DWDM as well as optical couplers/taps and newer, specialty multiplexers such as NG-PON2 and EPON+RFoG. With its multitude of slots and high-density modules, maXimux provides service providers and data centers with the highest density and most service flexibility available in a 1RU chassis.
"As cloud-based networking, the Internet of Things (IoT) continue to grow, the service providers networks must provide more bandwidth, better resource utilization, and increased flexibility than ever. Service providers cannot afford to continually build new networks to address these concerns. Instead, they must look to technologies, such as NG-PON2 and 10G EPON, that utilize existing resources to deliver the services their customers demand. Similarly, as cloud services become even more dominant, data centers and service providers will face a proportional increase in cyber attacks. Our maXimux platform aids service providers and data centers in leveraging their existing resources to increase high-bandwidth service availability, while providing the first step in thwarting cyber attacks," said O.J. Johnston, CEO of OptiX2.
In the past, most passive optical devices were housed in cassettes or modules as part of an LGX solution, which has been around and relatively unchanged for decades. These LGX modules protect passive optical devices from the environment, while providing a simple, modular, plug-n-play solution when used with an LGX chassis. "MaXimux embraces the best aspects of LGX, such as modularity, flexibility, and plug-n-play simplicity, while reducing the footprint by 75% and providing 4 x the density," said Johnston. Additionally, maXimux addresses some of the shortcomings associated with LGX modules, such as the elimination of pushpins for securing modules in a chassis. "With maXimux's SecureFITS (Fastens Inside The System) mechanism that secures the module within the chassis, customers no longer have to worry about pushpins breaking or not aligning correctly with the chassis," continued Johnston.
About OptiX2
OptiX2 is a leading distributor and manufacturer of active and passive optical networking systems. For more information, about maXimux please check out our YouTube video https://www.youtube.com/watch?v=QMxXky745mg or for more information about OptiX2, please go to http://www.optix2.com.