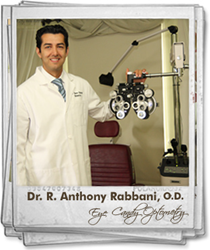 Los Angeles, CA (PRWEB) May 02, 2014
Los Angeles eye doctor, Dr. Ramin Rabbani, OD, is now offering a spring sale that makes vision care more affordable than ever. For a limited time, patients can get computer lenses or reading glasses plus select frames for just $140. Healthy eyes require the right balance of preventative care and vision correction when necessary.
About Dr. Ramin Rabbani, Optometrist Los Angeles
Los Angeles eye exam expert, Dr. Ramin Rabbani, earned his BS at UCLA and continued his education at the New England College of Optometry in Boston. He completed post-graduate training at the Omni Eye Services and focused on the management of eye diseases, including macular degeneration, cataracts and glaucoma along with specialized treatments for these conditions. His work experience includes time at the Boston Veterans Administration Hospital and a community health center, where he worked with children, elderly patients and those who were legally blind. He has diverse skills and extensive experience that allow him to provide unique services to his patients. He administers comprehensive optometric care that includes diagnosing eye diseases, prescription glasses and contact lenses and PRK and LASIK surgery management. He is an active volunteer with the Gift of Sight program and has traveled with the VOSH to the Yucatan to provide residents with the eye care they needed.
Dr. Rabbani offers comprehensive vision care services that include eye exams, contact lens exams, co-management of LASIK and refractive surgeries and holistic eye care. Treatment recommendations can vary based on patients and their specific needs. Each patient is provided with the personalized vision care that he or she needs to see clearly and enjoy better eye care.
Poor vision can detract from the overall quality of life of a person and increase the risk of eyestrain and discomfort. Improving vision through the proper corrective lenses can help patients see more clearly and comfortably. Dr. Rabbani works with his patients to get the best solution for their vision care needs.
Frames are designed to enhance the overall look and self-confidence of a person. Dr. Rabbani and his office provide a wide selection of glasses frames, including fair trade styles, eco-friendly styles, handmade frames and one-of-a-kind designer frames. These frames use only the highest-quality materials and finest craftsmanship to ensure a long life and reliable service.