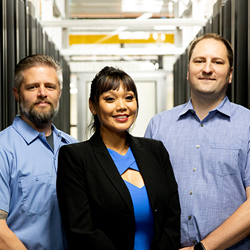 As a provider authorized by FedRAMP, we look forward to the opportunity to expand support to agencies that are undergoing the largest digital transformation in our nation's history.
HILLSBORO, Ore. (PRWEB) November 19, 2019
Opus Interactive, a leading provider of complex hybrid cloud hosting services, announced today that the OpusGov Cloud has achieved a Federal Risk and Authorization Management Program (FedRAMP) Ready Authorization.
FedRAMP is a government-wide program providing a standardized approach to security assessment, authorization, and continuous monitoring for cloud products and services. FedRAMP enables Agencies to rapidly adapt from old, insecure legacy IT to mission-enabling, secure, and cost-effective cloud-based IT.
FedRAMP created and manages a core set of processes to ensure effective, repeatable cloud security for the government. FedRAMP established a mature marketplace to increase utilization and familiarity with cloud services while facilitating collaboration across government through open exchanges of lessons learned, use cases, and tactical solutions.
"FedRAMP ready compliance demonstrates our ongoing commitment to deliver end-to-end support for agencies to meet Data Center Optimization Initiative (DCOI), modernization, and digital transformation goals," said Shannon Hulbert, Chief Executive Officer of Opus Interactive "Opus Interactive brings more than 20 years of standards and processes to proactively scan, identify, maintain, and protect critical infrastructure. Security – backed by audits, certifications, and compliance – is top of mind from firewall to world class datacenters located in Oregon, Texas, and Northern Virginia (FISMA high rated). As a provider authorized by FedRAMP, we look forward to the opportunity to expand support to agencies that are undergoing the largest digital transformation in our nation's history."
OpusGov (OG) is a Platform-as-a-Service (PaaS) and Infrastructure-as-a-Service (IaaS) compliance cloud service offering (CSO) that allows agencies to modernize and deliver optimization, performance, and cost savings for mission critical workloads. Agencies can deploy mission critical applications and workloads where they need with secure infrastructure on ENERGY STAR equipment deployed in FISMA High rated datacenters and monitored/managed with SL1, which is DOD IL approved.
Services available under the authorization include:
IaaS
OpusGov is an IaaS solution that allows you to increase agility, scale effectively, optimize workloads, and cut costs. We pair a right-sized environment with custom hybrid and multi-cloud solutions to deliver workloads where they offer the best in security, reliability, and high-performance.
Virtual Desktop Infrastructure
Virtual desktops and published applications securely delivered on demand through a single pane of glass - all powered by Citrix, VMWare Horizon™, and Parallels.
Object Storage
Cost effective data storage, with no egress fees. Object Storage on OpusGov is built for petabyte scale archiving of workloads that require low latency and secure data protection.
Colocation
Opus Interactive's portfolio of facilities were hand-selected for their operational efficiency and commitment to renewable energy use. Efficiencies include; PUE <1.3, 100% renewables, FISMA High rated, and LEED Certified. The highly secure, resilient, and compliant colocation facilities are located in top markets with grid redundancy for Western, Eastern, and Texas Interconnects.
Backup & Disaster Recovery
Fast and reliable backup with geographic and grid redundancy for virtual, physical, and cloud-based workloads. Backup, restore, and replication capabilities with advanced monitoring, reporting and capacity planning functionality.
Multi-Cloud Monitoring and Management
Monitor network performance and spend, enforce policy and security, and allocate resources across multi-cloud environments through a single interface that incorporates AI for predictive analytics and continuous monitoring.
About Opus Interactive
Founded in 1996, Opus Interactive has earned a reputation for custom IT solutions that fit unique requirements for security, scalability, cost, and future growth needs of its customers. An accredited member of the International Managed Services Provider Alliance, the Company operates from Tier III+ data centers located in Hillsboro, Portland, Dallas, and Northern Virginia. Through close partnerships with industry-leaders and a commitment to customer satisfaction, Opus delivers custom solutions for Cloud Hosting & IaaS, Colocation, DRaaS & Backup, Object Storage, VDI, and Public Cloud Monitoring & Management.
Opus Interactive is a woman and minority-owned enterprise that has worked closely with VMware and HPE partnership programs since 2005. With past performance that includes more than 20 years of proven results and current compliance with PCI-DSS, HIPAA, FedRAMP Moderate Ready and SSAE 18 SOC 2, Opus helps customers reduce cost and optimize resources using efficient operations.
For more information please visit http://www.opusinteractive.com.