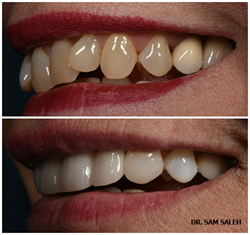 The ability to conduct same day aesthetic dentistry is one of the greatest benefits ascribed to CAD/CAM impression technology.
Los Angeles, CA (PRWEB) September 01, 2015
In an article published August 26 on Dental Economics, the author explained how many dental practices across the country are switching from traditional dental impressions to digital impressions using CAD/CAM (Computer Assisted Design/Computer Assisted Manufacturing) technology. According to Beverly Hills cosmetic dentist Dr. Sam Saleh of Ora Dentistry Spa, his practice has been an early pioneer of digital impression technology, and that it is basis of many of Ora Dentistry Spa's same day dentistry procedures.
Dr. Saleh notes that the ability to conduct same-day aesthetic dentistry is one of the greatest benefits ascribed to CAD/CAM impression technology. Using Planscan technology from Planmeca, Dr. Saleh is able to digitally scan patients' mouths, and craft a perfectly fitting restoration with his in-office restoration mill, often all within the same visit. Whether patients need veneers, crowns, or any number of other aesthetic restorations, they can walk into Ora Dentistry Spa and walk out the same day with a completely transformed smile. In addition to speed, Dr. Saleh notes that CAD/CAM technology also allows for increased accuracy and aesthetic considerations.

Accuracy – Dr. Saleh explains that since the Planscan technology uses a safe, fine laser scanning technology with a wavelength of just 450 nanometers so that it can pick up even the most minor grooves and crevasses of each tooth. Also, because the process is controlled completely by Ora Dentistry Spa rather than being sent away to an outside lab to mill the restoration, it prevents mistakes from occurring as the impression is changing hands.
Aesthetic Considerations – Patients also benefit from the restoration being created within Ora Dentistry Spa, notes Dr. Saleh, because of his ability to customize the restorations to match the individual aesthetic characteristics of each patient. Dr. Saleh explains that no one smile is perfect for every person, so when performing a smile makeover using restorations, he insures that each restorations matches the patient's facial features in a way that makes the smile look completely natural.
For years, Dr. Sam Saleh has been the preferred cosmetic dentist for Beverly Hills citizens and celebrities alike. While his work meets the high standards expected by many of his star patients often seen on TV and in movies, patients don't need to be famous to receive world-class care. Any patients interested in seeing what Dr. Saleh and the rest of the team at Ora Dentistry Spa can do for their patients can visit the dental spa online at http://www.OraDentistrySpa.com or call them today at (310) 273-0848.