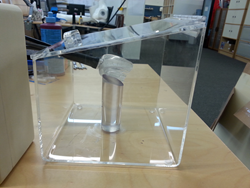 There are few feelings greater than when something you have dreamed of and anticipated finally comes into reality. Creation is a state of bliss.
(PRWEB) June 20, 2014
CLEARsmile, a complete oral hygiene device designed to replace the toothbrush, toothpaste, floss and mouth rinse, is proud to announce that its demonstration model of the device will be completed in August of this year. The demonstration model will allow people to see how the device works on a dental typodont (a model of the oral cavity) through a clear plastic case, complete with a clear mouth piece to be able to see how it works with the foaming bubbles. People will also be allowed to hold and handle the mouthpiece to inspect it closely and see how it feels. Atlanta-based Slingshot Product Development Group is working on developing the demonstration model.
"I am super excited that this invention has come along the journey from concept, to videos and drafted images, to now a hands on real thing that actually works," said Dentist and CLEARsmile Inventor Dr. Igor Reizenson. "There are few feelings greater than when something you have dreamed of and anticipated finally comes into reality. Creation is a state of bliss."
The CLEARsmile device uses pressure washing and specially developed micro-bubble technology to clean the teeth and gums at every angle simultaneously. It uses a mouth piece and micro-bubble tablets to blast and dissolve bad dental bacteria easily from every nook and cranny. First, the appropriate-sized mouthpiece is placed in the mouth, the desired pressure is set on the device, and the solution is pumped through the tube out of out hundreds of tiny orifices in the mouth piece. The device is on a timed cycle so that the right amount of solution is used depending on the size of the mouth piece.
CLEARsmile is also launching a crowd-funding campaign using the popular service Kickstarter, starting this July. The campaign will allow funders to receive the first batch of available devices, starting at $99 for the first 500 contributors, which will be made available during the Holiday season of 2015. A holiday bundle of three devices will also be available for those who wish to give the gift of oral health to their family and friends.
About Dr. Igor Reizenson:
In 2001, Dr. Reizenson received his DDS (Doctor of Dental Surgery) from the State University of New York at Buffalo School of Dental Medicine. He then advanced to the prestigious General Practice Residency Program at Veterans Hospital of Western New York. In 2007 Dr. Reizenson was recognized by the History Channel's "Modern Marvels" as one of America's top 25 inventors of the year for a patented oral hygiene device called ClearSmile. He is the founder and CEO of ClearSmile LLC. Dr. Reizenson is a long standing member of the American Dental Association, as well as the Georgia Dental Association. For more information, please visit http://www.clearsmileonline.com or call (404) 783- 4423.