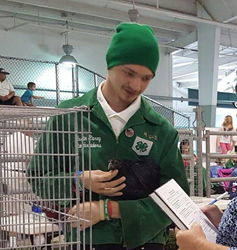 ...neighbors helping neighbors is what it's all about, and we truly hope everyone will circle the wagons to help this lovely family, who has been through so very much.
Orange City, FL (PRWEB) April 05, 2016
Greenfield Insurance Group's new community involvement program serving families of the greater Orange City, FL area, has teamed up with a local family currently battling the brain cancer of their son, Austin. Donations are now being accepted at: https://www.crowdrise.com/austin-carey-battles-brain-cancer.
Austin Carey was diagnosed with grade 4 glioblastoma in July of 2015, which is inoperable due to its location on his brain stem. Glioblastoma tumors grow fast and spread quickly, causing a variety of unpleasant symptoms as pressure on the brain increases. The goal of treatment is to slow and control tumor growth and improve quality of life. Originally given only 6 months to live, Austin's aggressive treatments have shrunk his tumor and enabled him to beat the odds thus far. His illness has been extremely difficult for his parents, having lost their younger child just a few years ago. They have both recently gone back to work, but escalating medical bills are proving to be a challenge for the family.
"We are very pleased to be fundraising for Austin," said Teresa Greenfield, owner of Greenfield Insurance Group. "This cause is a great fit for our new community involvement program. After all, neighbors helping neighbors is what it's all about, and we truly hope everyone will circle the wagons to help this lovely family, who has been through so very much."
The agency's caring team is hard at work promoting the campaign through social media and other avenues, even featuring Austin in their monthly electronic and print magazine. Our Hometown magazine, which is delivered to thousands of households in Orange City and surrounding communities, reserves a full page to showcase the campaign for Austin. The current issue may be viewed here: http://greenfieldins.com/Our-Hometown-Magazine_41.
Readers who would like to join Greenfield Insurance in supporting Austin and his family may visit: http://greenfieldins.com/Lets-Help-Local-Student-Fight-Against-Brain-Cancer_15_community_cause, and are encouraged to share the page with those in their own circles of influence. Contributors may be acknowledged for their donations in the agency's monthly magazine. The agency itself has pledged to donate $10 to the Carey family for each and every referral they receive for an insurance quote, with no purchase necessary.
Greenfield Insurance has demonstrated their devotion to the community by the establishment of a master charity program, of which the current campaign is part. "We are fully committed to assisting those in need in our community, and will be selecting a new group, family or individual to support every two to three months," promised Greenfield.
Information on past campaigns may be found at: http://greenfieldins.com/community-cause. To learn more about Greenfield Insurance, please visit: http://greenfieldins.com/.
About Greenfield Insurance Group
Serving families from offices in Orange City, FL, Greenfield Insurance is committed to bringing local people an agency which understands their needs. Teresa Greenfield and her team of dedicated professionals work with carriers to assemble a variety of products and services which will ensure their clients' peace of mind. From all of the products a typical consumer needs (home, auto, boat, ATV, etc.), to financial planning services, Greenfield Insurance delivers consistently superior service. Their caring experts may be reached by calling 888-989-7711.