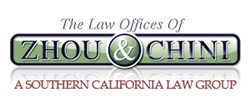 Call to speak with a bankruptcy attorney for free call, 888-901-3440
(PRWEB) January 06, 2014
Orange County bankruptcy lawyers Zhou & Chini continue their efforts to providing no cost California bankruptcy information. Their latest attempt to help financially strapped residents is to produce short videos that answer most questions people want to know about filing for bankruptcy. Each new video being produced is roughly 2 minutes in length and has information about the different Chapters of the bankruptcy code. Most looking to file are interested in Chapter 7 bankruptcy known mostly as "liquidation" or "straight bankruptcy", a Chapter 7 bankruptcy provides filers with protection from their creditors and relief from many of the debts that have overwhelmed and financially burdened them. It will allow the filing individual to clear most of the outstanding debts fast and get a fresh start in life. To qualify for a Chapter 7 bankruptcy the interested party must make less than the median income for people in the area. If the person filing income is above the medium income leveling in the area, they still may be eligible for Chapter 7 protections, but they will have to undergo a means test to determine how much disposable income the filing individuals has. To learn more about filing for Chapter 7 bankruptcy in Orange County speak to an attorney at the firm by calling 888-901-3440.
Because bankruptcy is complicated the lawyers know by making these introduction video shorts will most likely lead to people calling in for more information. The attorneys are glad to offer an initial 30 minute no cost consultation to answer any additional concerns. Once retained the Orange County attorneys will discuss a strategy on the best way to complete the process. Most people would like to see all their debt disappear, but if the person has too many assets or income then filing for Chapter 13 may be their best option. Filing a Chapter 13 bankruptcy requires the person to submit a detailed budget to the court and the trustee. It may take time to compile all the records necessary to file a Chapter 13 case. A California bankruptcy lawyer will help evaluate the filing individual's financial situation, and prepare the case for court. Typically the debts are owed to the government are not dischargeable, but including them in filing a Chapter 13 bankruptcy plan can have many benefits. Chapter 13-trustee bankruptcy freezes interest and penalties on taxes. This will allow the payment installments to go directly to the principal, greatly reducing the interest and penalties and interest on those back taxes.
Zhou & Chini bankruptcy lawyers are experts at obtaining financial relief for their clients. Since their beginning, Zhou & Chini have assisted many Orange County California residents in avoiding foreclosures, repossessions, wage garnishments, and more. The attorneys hired the top internet marketer in the USA to assist in promoting the message about the importance of speaking with a bankruptcy lawyer, if someone is considering filing. The lawyer continues its internet presence by offering zero cost bankruptcy information on bankruptcy firm's blog and social media pages. Having the best local SEO consultant to promote no cost consultations, the firm hopes to attract more local residents looking for financial relief. To read more on the firm's services, visit their Facebook page here, https://www.facebook.com/BankruptcyAttorneyOrangeCounty
About the Firm: The Law Office of Zhou & Chini servicing the cities and counties of California. He is a graduate of UCLA and has been practicing law since 1999. Mr. Zhou has a wealth of experience in bankruptcy, civil litigation, family law, criminal law and unlawful detainer. Zhou and Chini Law Offices provide bankruptcy assistance to Orange County, Los Angeles, Santa Ana and San Diego residents. For more information about speaking with a Los Angeles immigration attorney call the main office number.
Contact: Ron Chini
Website: info(at)bankruptcyattorneyorangecounty(dot)org
Phone: 888-901-3440