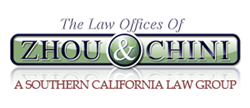 Orange County's affordable bankruptcy lawyers offer a free consultation call today 888-901-3440
Orange County, CA (PRWEB) January 15, 2014
The law office of Zhou and Chini understands the importance of providing the correct California bankruptcy information for those seeking to file. The company recently completed a number of videos in regards to Chapter 7 bankruptcy in Orange County and are now uploaded on the firms YouTube channel. The videos discuss important facts about bankruptcy laws, and provide information about automatic stays. Filing a petition under chapter 7 "automatically stays" stops most collections against the debtor or the debtor's property. But filing the petition does not stay certain types of actions listed under 11 U.S.C. § 362(b), and the stay may be effective only for a short time in some situations. The stay arises by operation of law and requires no judicial action. As long as the stay is in effect, creditors generally may not initiate or continue lawsuits, wage garnishments, or even telephone calls demanding payments. The bankruptcy clerk gives notice of the bankruptcy case to all creditors whose names and addresses are provided by the debtor, to see more visit, http://www.uscourts.gov/FederalCourts/Bankruptcy/BankruptcyBasics
Videos like "Anaheim Chapter 7 Bankruptcy" and "Santa Ana Chapter 7 Bankruptcy" are just two of the most recent videos to be uploaded. They videos contain basic information about filing for bankruptcy. Federal and state statutes that give protections to both the debtor and the creditor govern bankruptcy law. The law defines a way for debtors to get out of debt without harming their ability to lead a productive life in the future. Federal bankruptcy laws were updated in 2005, under the Bankruptcy Abuse Prevention and Consumer Protection Act (BAPCPA), which was passed to make it more difficult for individuals to file for bankruptcy. The Act eliminates the automatic eligibility to file for Chapter 7 bankruptcy and forces the repayment of some of an individual's debt under Chapter 13 bankruptcy. Until 2005, most personal bankruptcy cases were filed as Chapter 7 Bankruptcy because debts were discharged and did not have to be repaid. A "Means Test" was added to the law so that those with the means to pay some of their debts now must file for Chapter 13 Bankruptcy. Under Chapter 13 bankruptcy, an individual must develop a repayment schedule period. The discharge of the debt under Chapter 13 bankruptcy is not issued until the bankruptcy trustee has received the last payment in the plan.
The Orange County bankruptcy law office uses America's top SEO consultant to promote the message on the web about the need of consulting with a knowledgeable attorney in Orange CA, if someone needs to file bankruptcy. The law firm continues its online presence by offering free consultations and information on bankruptcy on the firm's blog and social media pages. By offering this information online, along with offering no cost consultations, the law firm hopes to retain more local residents looking to retain a knowledgeable lawyer.
About the Firm: The Law Office of Zhou & Chini servicing the cities and counties of California. He is a graduate of UCLA and has been practicing law since 1999. Mr. Zhou has a wealth of experience in bankruptcy, civil litigation, family law, criminal law and unlawful detainers. Zhou and Chini Law Offices provide bankruptcy assistance to Riverside, Los Angeles, Riverside and San Diego residents. To find more about immigration information, contact the firm.
Contact: James Zhou
info(at)duilawyerorangecountyca(dot)com
Phone: 951-200-3360