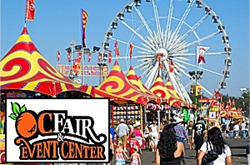 For 23 days we can all indulge our inner child and eat things like deep-fried butter and deep-fried Twinkies.
Costa Mesa, CA (PRWEB) July 19, 2016
Brad Schmett, Broker Associate with Luxury Homes by Keller Williams today announced that the fabulous Orange County Fair which opened this week at the Orange County Fair and Event Center in Costa Mesa, will be a huge draw for Inland Empire luxury home buyers thanks to the close proximity between Orange and Riverside counties. Set to run through August 14, 2016 the fair is one of the most anticipated events of the year in Southern California.
A full agenda of major events is planned during the course of the fair. A Junior Livestock Auction on July 23 will be held at the Livestock Show Ring. The Courtyard Wine Seminars are also among the most popular competitions at the fair, presented by the Orange County Wine Society every weekend until the fair closes. A wide range of entertainment will also be on tap including mariachis, the popular hypnotist Mark Yusuik, Blues guitarist Bill Magee, The Road Kill Kings and many more.
Schmett observed recently, "Not too many things are more fun than a good old-fashioned County Fair and the Orange County Fair has everything that the best fairs can offer and a lot more. For 23 days we can all indulge our inner child and eat things like deep-fried butter and deep-fried Twinkies. My team and I expect to be very busy thanks to the easy access from the Inland Empire to the Orange County Fairgrounds. We know that plenty of home buyers will be out looking for family homes while they also take time to enjoy the county fair. We are looking forward to meeting new friends and neighbors."
Don't forget to check and see if your own hometown is part of the City Days Community Flag Salutes which occur almost every day of the fair and honor local communities. The fair is closed on Mondays and Tuesdays.
For more information on the Orange County Fair visit http://www.ocfair.com/2016/generalinformation/Fairhours.asp.
To find out more about investing in Inland Empire real estate visit http://Inlandempire.bradschmettgroup.com.
About Luxury Homes by Keller Williams: Luxury Homes by Keller Williams – Inland Empire is an exclusive, elite and sophisticated group of real estate consultants raising the bar for service in the real estate market.