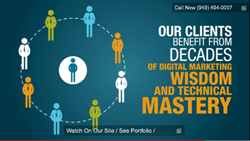 Unlike many marketing firms, Orange County SEO guarantees their results in writing.
Orange County, CA (PRWEB) February 01, 2014
Orange County SEO ( ocseo.com ) believes that traditional forms of marketing such as radio, television and print ads have been successful for many years for a good reason: they reach a large number of potential customers in a short time. The downside is that these forms of marketing, known as "interruption" marketing tactics, also reach many people who are not potential customers for a product or service.
However, there is a way to target only those people who are actually interested in a product or service quickly, and that is through search engines. Search engine marketing has many advantages for a business that wants to broaden its reach by targeting the best potential customers and leads. Orange County SEO, a search engine optimization company in California, offers the following five reasons why business should turn to search engine marketing before any other forms of advertising:
1) SEO marketing works 24 hours a day. No matter when customers search the web, they will find marketing targeted at them.
2) Searchers are highly qualified prospects. Customers divide themselves into potential target groups based on what they choose to search for, rather than forcing the business to discover which individuals may be interested in a product.
3) Both small and large businesses can take advantage. While a business may not have the budget to compete in terms of expensive television advertising or large print ads, almost any business can afford to optimize a web page for SEO content to attract visitors.
4) Immediate, measurable results. The average increase in organic search traffic after optimization is 500 percent. Results can be measured and tracked monthly to ensure a good return on advertising investment.
5) Success is guaranteed. Unlike many marketing firms, Orange County SEO guarantees their results in writing.
Search engine marketing can be the most cost-effective advertising a business ever uses. With the help of a professional SEO company such as Orange County SEO, businesses can harness the power of the Internet to drive customers to their websites quickly and raise profits immediately.
About Orange County SEO: Directed by SEO industry maven Tyler Collins, OC SEO specializes in search engine optimization and web design, and focuses on helping large and small businesses all over the country attain high search engine rankings and maximize their profits through website conversion enhancements.
For More Information:
Orange County SEO Company, Inc
16400 Pacific Coast Hwy. Suite 218
Huntington Beach, CA 92649
(949) 494-0007
http://www.ocseo.com