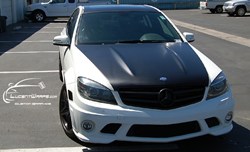 We are very excited to announce the redesign of our website.
Costa Mesa, CA (PRWEB) August 09, 2013
Lucent Wraps, specializing in full vehicle wraps including truck wraps and vehicle graphics, is pleased to launch its newly designed website. The new site features a sharp new look and showcases a gallery of pictures and videos highlighting the company's expertise.
"We are very excited to announce the redesign of our website," said Owner Edmund Karam. "We hope our customers will find our new Orange County Vehicle Wraps site more appealing and easier to use."
Orange County car wraps company, Lucent Wraps, offers full vehicle wraps, truck wraps, transit wraps, racing graphics, boat wraps, signs & banners, wall graphics, floor wraps, window graphic wraps and much more. The full-time, in-house staff performs the entire process, from designing to creating to installation, allowing each project to be quality-assured. In addition to digital graphics, Lucent Wraps also manufactures and delivers Segway advertising products.
The new website features easy to navigate drop down menus, a link directly to the Lucent Wraps Blog and features a gallery of pictures and videos that showcase the types of full vehicle wraps and truck wraps. The new website provides a full list of services and allows visitors to link directly to social media sites including Facebook and Twitter.
For more information about Orange County vehicle wraps please visit the new website at LucentWraps.com
About Lucent Wraps:
Established in 2006 Lucent Wraps has been an industry leader offering full service Graphic Design, Digital Print & Certified Installation* services. We specialize in Orange County Car Wraps, Full Vehicle Wraps, Truck Wraps, Transit Wraps, Racing Graphics, Boat Wraps, Signs & Banners, Wall Graphics, Floor Wraps, Window Graphic Wraps and much more. Our team brings extensive experience from the graphic design, digital printing and graphic installation industry.
Advertising on vehicles and other surfaces requires full attention on the design, print and installation. From full-time, in-house designers and installers to using world's best printer and materials we take pride in what we do and it shows in every project we touch.