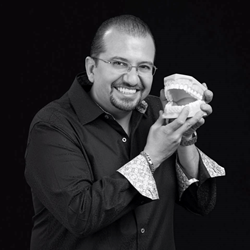 Orange County, CA (PRWEB) May 02, 2016
Dr. Rassouli, dentist in Orange County, CA comments on the new study now linking dental health and cognitive decline. According to the research, which was published in the "Journal of the American Geriatrics Society," more than a third of seniors have some degree of cognitive decline, and about 5.4 million Americans have Alzheimer's disease. The study found that dental problems may increase the risk of heart disease, while systemic health problems such as diabetes can increase the risk of dental diseases by making the body more vulnerable to infection. It also indicated that there was a strong correlation between dental disease and cognitive impairment.
Researchers analyzed studies published over a 20-year-period ending in 2013 using longitudinal data. The results suggested that gum disease, cavities, and tooth loss could indicate a heightened risk of cognitive decline. They warned that more information would need to be gathered and analyzed from larger population samples to better explore the relationship between dental health and cognitive function.
While more studies may be needed, many other studies have underscored the relationship between dental and general health. Dr. Rassouli encourages patients to take a holistic approach to dental health, which can help them enjoy better overall health, as well. He offers comprehensive dental care that includes:

Preventive dental treatment
Dental fillings, inlays and onlays
Porcelain crowns and bridges
Dental implants and dentures
Oral surgery
Full mouth reconstruction
Halitosis treatments
Dr. Rassouli also offers dental sedation, which can be ideal particularly for nervous or anxious patients. "We take the time to learn what works for you and offer sedation options that ensure your dental needs are properly met. We offer general IV sedation, as well as nitrous oxide," his team said.
About Dr. Rassouli, Invisalign Dentist Orange County
Cofounder of the South Coast Dental Academy, Dr. Rassouli has become well-known for his commitment to continuing dental education. The South Coast Dental Academy offers advanced programs for Orange County-area dentists. Dr. Rassouli is a graduate of USC's School of Dentistry. During his time there, he served on the Accreditation Committee, and after graduation, joined the Century Club, which is a prestigious dental organization that offers additional educational opportunities to member dentists.
Source: https://www.sciencedaily.com/releases/2016/04/160401073706.htm