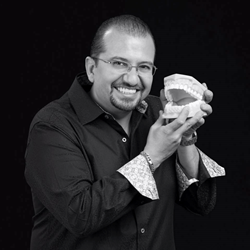 Orange County, CA (PRWEB) February 27, 2017
Orange County dentist, Dr. A. Rassouli, comments on the new vaccine for periodontitis. Periodontitis is a chronic inflammatory gum condition that occurs when the bacteria in plaque infect the gums and other tissues supporting the teeth. Treatment typically consists of deep cleaning, also referred to as a scaling and root planing or SRP, and can include surgical therapies if the condition has led to significant damage. Unfortunately, even with aggressive treatments, periodontitis can continue to progress and cause the loss of teeth and other tissues.
About thirty-three percent of American adults suffer from moderate or severe periodontal disease, and the global costs associated with treating dental diseases such as periodontitis are estimated to be almost $450 billion annually. According to Science Daily, researchers at the University of Melbourne have recently developed a vaccine to combat periodontal disease at an earlier stage, which might help prevent the later, more destructive stages of the disease.
"The researchers determined that because only a few bacteria are responsible for periodontal disease, they could create a targeted vaccine. The Gingipain vaccine triggers the body's immune system to create antibodies against Porphyromonas gingivalis toxins. Further research is needed to determine the safety and efficacy of the vaccine, but researchers hope that the vaccine can reduce the damage associated with gum disease," said Dr. Rassouli, oral surgeon in OC.
Dr. A. Rassouli offers the full spectrum of periodontal care, including SRP, pocket reduction surgery, flap surgery, gum grafts, bone grafts, dental implant surgery, and guided tissue regeneration. He also offers other dental care treatments, including:

One visit crowns
Invisalign
Oral surgery
TMJ treatments
Sleep apnea treatments
Pinhole surgery for gum recession
Zoom whitening
Porcelain veneers
About Dr. Rassouli
Dr. A. Rassouli is a graduate of USC's Dental School. During his time there, he served on the Accreditation and Ethics Committees and was the class president for four consecutive years. He was also honored for his academic accomplishments and leadership skills. After graduation, he served as a part-time clinical faculty member and joined USC's prestigious Century Club. He and his partner co-founded the South Coast Dental Academy, an organization that offers instructional programs to Orange County-area dentists.