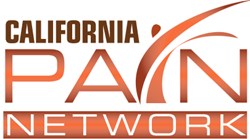 The California Pain Network doctors in Los Angeles and Orange County offer over 25 effective pain treatment options with over a 90% success rate!
Orange County, CA (PRWEB) October 08, 2013
The Orange County pain management doctors in the California Pain Network are now offering an impressive 25 effective treatment options. The therapies include both medication management and interventional procedures and are individualized to patients. Over 50 insurance plans are accepted and the doctors are Board Certified. Call (714) 261-9131 for more information and scheduling.
With one third of the population dealing with a chronic pain issue, it is great when an LA or Orange County pain clinic can offer several pain relief options that have a high chance of success. The California Pain Network has over 20 doctors and 20 locations throughout the Los Angeles and Orange County areas, with each one providing the immense array.
Options include several different types of medication management (narcotic and non-narcotic) that may be topical or oral. Along with medications, procedures such as joint and epidural injections, radiofrequency ablation, spinal cord stimulator implants, occipital nerve blocks, trigger point injections, selective nerve injections and more are offered depending on the patients' needs.
Both simple and complex pain conditions are treated such as fibromyalgia, failed back surgery syndrome, headaches, migraines, sciatica, joint and spinal arthritis, spinal stenosis, RSD, diabetic neuropathy and more. With such a broad selection of treatment options, the Orange County pain management doctors are able to achieve over a 90% success rate and often help patients avoid surgery.
Most insurance is accepted at the pain management clinics in Los Angeles and OC including all PPO's, Medicare, Workers Compensation, Personal Injury and Self Pay. Call (714) 261-9131 for pain management Los Angeles and Orange County trust!