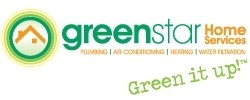 All of our clients really appreciate the extra time and care we take when reviewing and servicing their homes.
Las Vegas, NV (PRWEB) January 14, 2014
Greenstar Home Services provides great value to homeowners in 2014 with new "Green It Up" initiatives. In recent years there has been a dangerous influx of harsh chemicals and tactics used to complete home repairs. In an effort to cut costs, many companies simply have not taken the initiative to alter their methods to protect the environment. Green Star Home Services aims to fill the void in the home improvement market by offering environmentally friendly products and services for the home.
Spearheading its eco-friendly efforts is the "Green It Up" program. Through "Green It Up" Greenstar provides customers with top of the line products that are completely safe for the environment and safer for those in the home as well. Greenstar Home Services is proactive rather than reactive when it comes to the home's plumbing, water, and HVAC system. While specializing in preventative maintenance, Greenstar's professionals also take time to educate customers on the safest products and treatments available.
"All of our clients really appreciate the extra time and care we take when reviewing and servicing their homes. Most homeowners ignore what is clearly stated in the owner manuals to do in order to take care of the plumbing or HVAC system. This creates an environment that is not only unsafe for the homeowner but for the planet overall. We offer the homeowner a comprehensive preventative maintenance program for their home on a routine schedule to help extend the life of their home comfort systems, promote safety, and ensure they have the most energy efficient products on the market." - Ryan Wohlers, Operations Manager.
In the average home, heating and cooling account for more than half the energy consumption, making it the largest energy expense for most families. Making smart decisions regarding home energy usage makes financial sense. Greenstar's "Green It Up" program aims to focus on proper maintenance, which can lower energy usage, curb utility bills, decrease the chance of breakdowns and improve the life of the mechanical systems within the home.
To learn more about Greenstar please visit greenstarhomeservices.com.
About Greenstar Home Services:
Greenstar Home Services is the leading provider of environmentally conscious HVAC, central water filtration, and home plumbing in Orange County, California. Greenstar takes great pride in providing unparalleled customer service and offering overwhelming value. Greenstar focuses on preventative maintenance by assisting homeowners with regular home maintenance to greatly reduce and even eliminate costly repairs and emergencies. All of Greenstar service technicians are background checked and drug tested. Greenstar also carries workers compensation to protect homeowners from liability. Greenstar has locations in Lake Forest, CA and Las Vegas, NV. For more information on Greenstar and a full list of services, please visit http://www.greenstarhomeservices.com or call 1.800.434.2566.