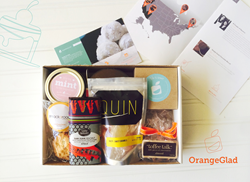 "There are a ton of people around the country who have dedicated their lives to making truly unique and delicious sweets, and our goal is to find them and get their creations into our subscribers' hands…and mouths" - Max Solomon, CEO of OrangeGlad
(PRWEB) April 12, 2017
OrangeGlad, the subscription service that delivers delicious, curated desserts right to subscribers' homes, today announced that it was expanding its options and offering two sizes of its beautifully packaged boxes full of yumminess to its monthly subscribers.
OrangeGlad subscribers receive a box of artisan-created sweets, curated from all around the US, every month. The boxes create an element of surprise to the recipient on each delivery day, and offer heavenly tasting, mail-friendly treats that subscribers won't find at local stores.
"There are a ton of people around the country who have dedicated their lives to making truly unique and delicious sweets, and our goal is to find them and get their creations into our subscribers' hands…and mouths," said Max Solomon, CEO of OrangeGlad. "I love working with these artisans; it's really cool to introduce them to more people and help get them the exposure they deserve."
Some of the most popular items that have been featured in past OrangeGlad boxes include Fatty Sundays' Sweet Toffee and Milk Chocolate Covered Pretzels, Finally Ginger's Ginger and Oatmeal Cranberry Cookies, McCrea's Black Lava Sea Salt Caramels, and Whimsy & Spice's Espresso Dulce de Leche Brownies.
Many of OrangeGlad's subscribers are so delighted with their boxes that they purchase gift subscriptions for loved ones. "We recently had a customer request to cancel her subscription," Solomon recalled. "She wanted to reach out personally to let me know how much her grandmother 'enjoyed getting her monthly box of sweets at her nursing home before she passed away. It was an extra-special treat for a 97-year-old.' This is a perfect example of why we got into this business. It makes me so happy that we were able to play even the tiniest role in making her life better before she passed."
The traditional Single Portion Box is still available, but the company now offers a Double Portion Box —perfect for bigger families or more sharing opportunities. The traditional box contains a curated selection of five deluxe-sized treats, perfect for 1-2 people, and costs $25 per month, including shipping. The Double Portion box contains ten treats (two each of the contents of the Single Portion Box), and is $40 per month, including shipping.
Subscribers to OrangeGlad not only receive a happy surprise of highly anticipated treats each month, but can also access giveaways, flash sales and promotions. Subscribers that refer friends receive their next month's box for free. OrangeGlad's gift subscriptions are self-expiring, so gifters can rest easy knowing their gifts will automatically cancel after the number of months they select at the time of purchase.
OrangeGlad's next box of treats is scheduled to arrive to subscribers/recipients by the second week in May, if you order by April 30. So if you're trying to think of a fun, unique and surprising gift that keeps giving for Mom's special day, you can sign up for Mother's Day subscriptions in 3, 6 or annual subscriptions at OrangeGlad.com. Use promo code DELICIOUS to receive 10% off your first box.
For more information about OrangeGlad, please visit http://www.OrangeGlad.com, or follow us on Twitter (https://twitter.com/orangegladbox), Facebook (https://www.facebook.com/orangegladbox), Instagram (https://www.instagram.com/orangeglad/) and Pinterest (https://www.pinterest.com/orangeglad/).