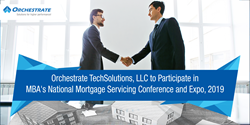 We look forward to showcasing our expertise in mortgage solutions at the premier event that represents all aspects of the real estate industry, and utilize the opportunity to collaborate with industry peers. - Z. Ed Lateef, Group Founder and Chairman
CARROLLTON, Texas (PRWEB) February 22, 2019
Orchestrate TechSolutions, LLC, has announced its participation in the National Mortgage Servicing Conference, 2019. This premier event focuses on the latest trends and innovation in mortgage servicing including process improvement, resource management, quality control, data privacy, and much more. The conference will provide the company a chance to meet and interact with current and future clients across the industry.
Orchestrate offers end-to-end mortgage solutions with a core focus on title and tax service, business process outsourcing as well as post-closing review and other QC services. Managed and operated from its onshore delivery center, the company has the expertise to engage the clients with both origination and servicing needs. It has always been inclined towards innovation in mortgage services, with impetus on information, connections, and solutions, which happens to be the theme of the conference this year.
As in prior years, our team is optimistic about its participation at this year's conference. The innovative solutions and services aimed at enhancing the scalability and flexibility of mortgage operations have played a critical role in the success of its clients, effectively improving the efficiency of mortgage life cycle processes.
Orchestrate TechSolutions, LLC's focus and growth strategy for 2019 and beyond is centered on the following core areas while expanding to meet client's demands.

Processing Support
QA/QC Reviews
Appraisal & Order Management
Closing & Post-closing Services
Customer Contact Services
Z. Ed Lateef, Group Founder and Chairman of Orchestrate TechSolutions, LLC said, "We look forward to showcasing our expertise in mortgage solutions at the premier event that represents all aspects of the real estate industry, and utilize the opportunity to collaborate with industry peers."
Face Fakhry, CEO of Orchestrate, echoed Ed's views as he said, "There is a huge demand for quality and innovative services in the US mortgage industry, which has undergone massive transformation since the recession. The Expo offers a huge prospect for servicers like us, who have the capability to deliver ideal solutions with contemporary standards."
He also believes that participations at the MBA conference can benefit from live interaction and meetings while on-site. Parties interested in bringing efficiency and enhanced profitability may schedule a meeting in advance by contacting him at ffakhry@orchestrate.com
About Orchestrate:
Orchestrate TechSolutions, LLC is a Dallas based Mortgage Services company. It operates global delivery centers on three continents and provides comprehensive mortgage solutions with special focus on Title, Tax service and mortgage business process outsourcing. Orchestrate TechSolutions, LLC has acquired a reputation for its capability to meet and manage the diverse needs of its clients that include leading banks and financial institutions. For more information, visit http://www.orchestrate.com.