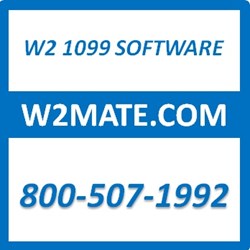 Microsoft dynamics consultants and users are invited to try the state-of-the-art import wizard for Dynamics 1099 forms available inside W2 Mate software by visiting www.W2Mate.com
Chicago, IL (PRWEB) December 15, 2013
Real Business Solutions today announced the release of their Oregon State 1099 electronic filing module for Microsoft Dynamics / Great Plains users who are required to e-File 1099 returns in the 2013 / 2014 tax season. The powerful, yet easy-to-use module meets Oregon electronic reporting specifications and works with most Microsoft Dynamics editions including GP (Great Plains), AX (Axapta), NAV (Navision) and SL (Solomon). Free trial download of the new module is available as part of W2 Mate 2013 software from http://www.W2Mate.com/.
According to Oregon 150-314.360, businesses with 10 or more 1099-MISC, 1099-R, 1099-G or W2-G forms are required to file electronically. The new regulations are effective for calendar year 2013. The transmittal due date with the Oregon Department of Revenue is March 31, 2014. The 2013 State 1099 e-File module inside W2 Mate software is guaranteed to meet the Oregon electronic 1099 specifications.Oregon does not participate in the combined Fed/ State filing program and filers have to report 1099s directly with the state.
Microsoft dynamics consultants and users are invited to try the state-of-the-art import wizard for Dynamics GP and SL 1099 forms available inside W2 Mate software by visiting http://www.realtaxtools.com/ .
Although Oregon follows the IRS 1099 e-File specs (publication 1220), the state defines special rules for the "B" records. These specifications are different from federal and Oregon DOR would not accept IRS-formatted files as is. W2 Mate software builds the state records (the "B" records) to meet Oregon specs and collects any additional information needed from the user to create a compliant file.
Importing 1099 data from Microsoft Dynamics into W2 Mate is easy and straightforward. W2 Mate engineers have developed a unique and exclusive mechanism for importing 1099 data from MS Dynamics with a few clicks. Once the 2013 forms are imported inside W2 Mate, they can be reported to different tax agencies.
Year after year, small businesses and accounting firms rely on W2 Mate to process accurate and timely 1099 and w2 returns with the IRS and Social Security Administration. W2 Mate software has some of the best 1099 software reviews in the industry. W2 Mate W2 and 1099 tax software offers support for paper-print and paperless (electronic) wage and information return preparation for 1099-MISC, 1099-INT, 1099-DIV, 1099-R, W-2, 1099-S, 1098-T, 1098, 1099-K, 1099-A, 1099-B, 1099-C, 1099-PATR, 1099-OID and associated transmittals (1096 and W-3 forms).
Give W2 Mate software a test drive and see how easy MS Great Plains 1099 electronic filing and print can be. Please take a minute and visit the 1099 software page on the W2 Mate website.