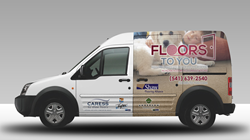 Bringing product samples into the space that they will end up in leads to a simpler purchase process and an ultimately happier customer.
Bend, OR (PRWEB) July 21, 2014
Floors to You, a company providing flooring materials to Oregon residents, is offering a summer discount on their products. Customers purchasing flooring between now and the end of August will get 10% off the price of materials when they mention the promo code FTY07092014.
No other discounts apply when using this promo code. The discount is for materials only, not installation.
The flooring materials available from Floors to You are:
Carpet
Hardwood
Vinyl
Marmoleum
Laminates
Rugs
Floors to You services anywhere from Bend Oregon to Redmond, Albany, Corvallis, Salem, Eugene and beyond.
Floors to You (FTY) stands out from other Oregon flooring stores because of their "Shop at Home" business model.
Instead of driving down to one of their locations, checking out the inventory, selecting a product, and hoping it will look good in the space it is intended for, Floors to You says they offer a better solution. Customers can stay put at their home or business, and a FTY design consultant will travel to their location in a vehicle with hundreds of product samples.
They say bringing product samples into the space that they will end up in leads to a simpler purchase process and an ultimately happier customer. Seeing materials next to current décor and under current lighting is much better than seeing it in a warehouse.
Those interested in experiencing the "Shop at Home" model can click here to schedule an in home consultation.
Prefer calling to make the appointment? Residents around Eugene Oregon can call Floors to You at (541) 731-4422. Residents around Albany or Salem Oregon can reach a FTY design consultant at (503) 856-6370. Those living around Bend or Redmond Oregon should call (541) 639-2540.
Floors to You urges customers to call soon if they want new flooring. The 10% off discount only lasts through August, and then products will return to full retail cost.
Check out the FTY Blog for more detailed product information, as well as advice on what styles work best for what rooms, how to keep floors clean, and more.
Click here to see a blog post recently published on the site discussing the best material to use in bedrooms. The post says, "Typically carpet is the most popular bedroom floor surface. People enjoy the soft and warmth this flooring provides. Carpeting offers a sense of lush luxury in the rooms.
Another benefit of carpet in the bedroom is that it can provide a certain amount of insulation for the space. This helps isolate the room from outside noises and gives a feeling of privacy."
Here is a post to learn more about the benefits of the Floors to You process. It states "Shopping from home is popular now as consumers get online and scroll through samples. This option, however, doesn't allow you to touch and feel the quality of materials you might eventually have in your home.
There is a way to have the best of both worlds; to get the actual physical products to come to your home. A trained designer can help you narrow down the selection as you look for style and color."