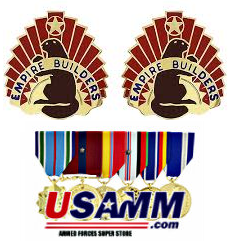 You'd be hard-pressed to find another company that offers even a few of the Oregon items we have in stock.
(PRWEB) January 23, 2014
Local military uniform superstore, USA Military Medals, is stocking Ore. National Guard distinctive unit insignia, here, providing Ore. service members a one-stop shop location for completing their dress uniforms.
From military slang, a distinctive unit insignia (DUI) or "unit crest" is a metal heraldic device worn by soldiers in the United States Army.
The insignia - including the 41st Infantry Brigade Combat Team Unit Crest (No Motto), 218th Field Artillery Regiment Unit Crest (Per Angusta Ad Augusta),162nd Infantry Regiment Unit Crest (First to Assemble), 116th Cavalry Unit Crest (Move Strike Destroy), and the Oregon National Guard Unit Crest Left and Right Facing (Empire Builders), to name a few, are available in pairs with steel backing and ship within hours.
"Unit crests are specific to state and unit, and therefore not always easy to find," said USAMM, LLC President of business operations, Jared Zabaldo.
USAMM owns and operates USA Military Medals along with various other military uniform e-commerce stores.
"USAMM carries every Oregon badge, crest and ribbon, so local service members as well as others from around the country can rely on us to complete their racks fast and accurately," said Zabaldo.
UMM is also assisting these Soldiers by providing fully assembled, mil-spec ribbon and medal racks, which can additionally be purchased through the free, online uniform-program, "EZ Rack Builder."
From military slang, a military ribbon or medal "rack" represents the colorful rows of awards typically found above the wearer's left pocket on U.S. armed forces dress uniforms.
"You'd be hard-pressed to find another company that offers even a few of the Oregon items we have in stock," said Zabaldo.
About USAMM:
USAMM (http://www.usamilitarymedals.com/) is an Internet-based company formed in 2005, carrying more than 14,000 dress uniform products in stock and specializing in custom military medal and military ribbon rack production with their state-of-the-art rack builder. USAMM also operates a brick and mortar store servicing local military personnel and veterans.