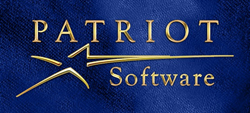 "Small business owners are such an important part of our economy, but sometimes their needs are overlooked," Kappel said.
Canton, Ohio (PRWEB) November 18, 2014
Online payroll from Patriot Software, Inc., is now available to Oregon employers, the company announced.
"Oregon small business owners now have a new, affordable option for payroll," said Mike Kappel, president and founder of Patriot Software. The Ohio-based company currently offers the software in 45 states and hopes to soon be available in every state, he said.
A small business owner himself, Kappel started Patriot Software in 2002 because he realized that there was a real need for software that was uniquely designed for small business owners, he said. In addition, the company offers applications that integrate with the payroll software, including timekeeping, human resources and accounting.
"Small business owners are such an important part of our economy, but sometimes their needs are overlooked," Kappel said. "That's why we developed intuitive, easy-to-use online software that small business owners can also afford." Patriot Software prices their payroll software according to the number of employees in the business, not a one-size-fits-all rate, Kappel explained.
Employers can securely log in to the payroll software, enter their employees' hours, and finish payroll in a few clicks. All payroll tax calculations are guaranteed to be accurate, and there are no tax table updates to worry about. In addition, customers can print out in-depth reports as well as W-2/W-3 forms at the end of the year.
Payroll customers can take advantage of free direct deposit and an online portal for employees, where they can log in to see their pay stubs and manage their personal and banking information.
Patriot offers two different payroll options for customers: Basic Payroll, in which the customer handles their own payroll taxes using reports in the software, or Full-Service Payroll, in which Patriot handle all required payroll tax deposits, filings and correspondence with taxing agencies.
Patriot offers free payroll setup and ongoing support to customers, Kappel added.
"Small business owners are busy people," Kappel said. "Our support team can help them get set up, and even enter their year-to-date payroll information for them," he said. "Oregon customers will appreciate the fact that they can talk to a real person right here in the U.S., who takes the time to listen and help them out."
To try a free seven-day demo of all the software or to sign up for a free 30-day trial, visit PatriotSoftware.com or call (877) 968-7147.