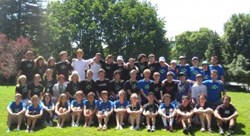 We are very excited to join forces again and host another year of Ultimate Camp in Oregon.
San Rafael, CA (PRWEB) January 24, 2014
Next Level Ultimate, founded by Ben Feldman and Andrew Grone in 2009, is dedicated to providing high school players with a competitive, motivating and fun camp experience which develops skills, strategy, teamwork and next level knowledge in the sport of ultimate.
The Nike Next Level Ultimate Camp is committed to building leaders on and off the field by recruiting highly dedicated staff who work hard to give campers the confidence and tools necessary to improve.
The 2014 Nike Next Level Ultimate Camp at the University of Oregon will run from July 12-17. Camp is geared towards high school players, ages 14-18, and offers Overnight and Extended Day (8:00 a.m.-9:30 p.m.) program options. Campers will be instructed using the same drills and focused scrimmages used by top university and club level players.
"After having a great first summer partnering with Next Level Ultimate last year, we are very excited to join forces again and host another year of camp in Oregon," said Siera Levenson, manager of Nike Ultimate Camps. "The excitement around the sport is growing and we are proud to continue providing opportunities for kids to learn and play ultimate."
About US Sports Camps, Inc.
US Sports Camps (USSC), headquartered in San Rafael, California, is America's largest sports camp network and the licensed operator of Nike Sports Camps. The company has offered summer camps since 1975 with the same mission that defines it today: to shape a lifelong enjoyment of athletics through high quality sports education and skill enhancement.
Players, coaches, parents and others interested in Nike Ultimate Camps and US Sports Camps can visit the company's website at USSportsCamps.com.