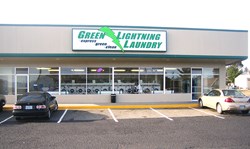 The choice to go cashless has been important for security and for handling business remotely.
Coos Bay, OR (PRWEB) November 05, 2013
Over the last four years, Case Harris has been hard at work opening four new coin-op laundry businesses along the central Oregon coast. With decades of combined service industry experience, Harris and his father, Don, have worked together to bring accessible, fast, and affordable laundry services to local communities. Working with Western State Design (WSD) to choose 'green' laundry equipment to run an efficient business, Harris has, in the process, saved his customers time and money.
Harris chose to open a laundry primarily to get out of the typical 9 to 5 work cycle and have more time to spend with his family. He also has years of experience in other service industries, like his family's restaurant in his hometown of Juneau, Alaska, and he values the time he gets to engage with customers. All four Coin Laundry locations are open 24 hours, and they have tables and chairs for convenience while waiting. Some stores also offer drop-­off laundry service and vending machine snacks.
Harris chose to work with Jim Wright, the sales representative for WSD in Oregon. He selected the Dexter EXPRESS coin-op laundry machines for his stores. Oregon is known as one of the "greenest" states in the country, and Harris wanted to be as environmentally friendly as possible with his stores. The Dexter EXPRESS machines have shorter wash and dry cycles, therefore using less energy, water, and gas per load.
The next decision was installing the EasyCard™ payment system which replaced the use of a traditional coin-­operated system. It was very important for Harris to have Laundromats that are secure and have a low risk for vandalism, this assisted him in his decision to choose the Easy Card payment system. Instead of worrying about coin machines attracting vandals, the EasyCard™ system is essentially cashless. The laundry store locations also have cameras that can be viewed on the business's website. Cameras are also used for added security at all locations.
When it came to choosing a distributor to work with in the purchase of his laundry equipment, Harris researched and contacted many distributors in the area. Of all the distributors he met with, Harris said WSD was the only business to offer him both a professional relationship and a reliable service agreement, as well as open communication. Harris said one distributor offered him deep discounts, but couldn't provide installation or customer service due to distance. Harris describes his relationship with Wright as one that lacks pressure, unlike the typical salesman relationship.
Harris' laundry locations span more than 50 miles of the Oregon coast. Managing the laundries remotely is simple for Harris with the EasyCard™ system. When attendants aren't available in stores, he leaves a number for customers to call if they have a problem. No matter what the issue, he can access information remotely and fix problems, saving hours of labor by working digitally. Harris lives near Coos Bay and has easy access to that location and the laundry in North Bend. However, in part thanks to the EasyCard™ system, he is also able to service areas that had great needs for a Laundromat many miles away in Reedsport and Florence.
In addition to the traditional laundry offerings of washers and dryers, the newest Green Lightning Laundry also offers showers, allowing customers to multi-task. The store Harris purchased already had coin-­operated showers, and through some engineering and collaborating with contractors, he was able to make them useable through the EasyCard™ payment system. With the number of RV parks and campsites in the area, the revenue generated from the pay showers made maintaining them in the Laundromat a no-brainer.
Each Laundromat opening has brought new learning experiences. Harris values service and ease of maintenance above all. Each additional store has included improvements to the equipment on the maintenance side to make cleaning easier for Harris. Jim Wright had an important role in helping Harris decide on locations for his laundry stores. Harris recalls Wright explaining the importance of identifying areas as underserved, adequately served, and over served. Harris explained that he almost purchased a very large store at a location in a heavily trafficked mall area before he realized there was an underserved area nearby. That is how he chose his first Coos Bay location, and has continued to choose all other future locations. To learn more about Green Lightning Laundry visit http://www.greenlightninglaundry.com.
With 37 years experience as a premier, full-­service distributor to the coin-­op laundry industry, Western State Design has grown to become one of the largest coin laundry equipment distributors in the world. Western State Design is proud to be a Dexter Authorized Distributor, and has been recognized as No. 1 Dexter Distributor Worldwide in 2009, 2010, 2011 and 2012. Dexter Laundry located in Fairfield, Iowa, is an employee owned leading manufacturer of commercial laundry equipment. All equipment is manufactured in Iowa. Visit WSD online at http://www.westernstatedesign.com or call toll free at 1-­‐800-­‐633-­‐7153 to learn more.