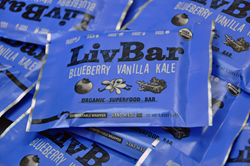 I've always loved the Portland Marathon, so to be able to also provide the runners with a bar I designed specifically for activities like this feels amazing.
PORTLAND, Ore. (PRWEB) October 01, 2019
Oregon-based LivBar will be featured at this year's Portland Marathon at both the pre-race Expo and in swag bags handed out to the nearly 6,000 race participants. All runners will receive a Blueberry Vanilla Kale LivBar in their race packets. LivBar founder Jan Johansen will be present at the Expo booth on October 5th to hand out LivBar samples and to meet race participants.
"I've always loved the Portland Marathon, so to be able to also provide the runners with a bar I designed specifically for activities like this feels amazing," Jan said. "Be sure to give me a high-five if you see me at the Expo!"
The 2019 Portland Marathon course will start and end at Waterfront Park. It will cross four bridges and go through all four of Portland's major quadrants, including stretches through Northwest 23rd Avenue, Westmoreland, and the Eastbank Esplanade.
LivBar CEO Wade Brooks said, "We're thrilled to be able to provide organic, nutritious bars to all of this year's half and full marathon runners. Portland deserves a world-class marathon, and we hope to partner with the organizers for years to come as the event grows."
Brooksee, The Portland Marathon's new organizers, hopes to increase participation to 20,000 runners by 2023 and 35,000 in 2030.
LivBars are excellent pre and post race fuel: they come packaged in a compostable wrapper and are one of the only baked, all-organic energy bars in the nation. The bars are currently available online at Amazon Prime, Amazon Subscribe and Save, direct from the LivBar website (http://www.livbar.com), and in hundreds of stores including Erewhon, New Seasons Markets, Market of Choice, Zupan's, Garden Bar, and Roth's Fresh Markets.
LivBar is distributed nationally through KeHE and DPI Specialty Foods.
About LivBar®
LivBar was founded in 2012 in Salem, Oregon, by two nutrition and fitness experts, Jan and Gabe Johansen. Jan was challenged to find any truly healthy energy bars she could recommend to her clients, so she created the LivBar recipes. LivBars are crunchy and chewy and come in five delicious superfood flavors: Coffee Maple Cacao, Raspberry Kale Maca, Blueberry Vanilla Kale, Ginger Lemon Turmeric, and Lemongrass Cherry Matcha. For more about LivBar, visit LivBar.com or check out our social media channels: Facebook, Instagram, Twitter, & LinkedIn.
About the Portland Marathon
The Portland Marathon dates back to 1972, when it was held on Sauvie Island for a few dozen runners. It moved downtown in the mid-1980s, an in the 2000s it regularly drew 5,000 to 10,000 runners. Participation dropped to 2,912 runners in 2017, and in 2018 the race was almost canceled due to complications with route approval. The 2019 Portland Marathon will be the 48th running of the city's marathon and the first organized by Brooksee, who won the bid to put on the Portland Marathon from the City of Portland with a plan to turn it into a world-class event building to 20,000 participants by 2023 and 35,000 in 2030.
The Portland Marathon will start and end at Waterfront Park on October 6th, 2019. The race begins at 7:10am. Registration is open online until October 5th.
About The Portland Marathon Expo
The Portland Marathon by OHSU Expo is open to the public and will take place on Saturday, October 5, 2019 from 10:00 AM to 8:00 PM at the Oregon Convention Center at 777 NE Martin Luther King Jr Blvd, Portland, OR 97232. The Expo will feature sponsors and vendors from the local and national running industry, as well as multiple non-profit race partners.
If you would like more information about LivBar or the contents of this release, please call Jessi Freitag, Marketing and Operations Director at (971) 239-1209.