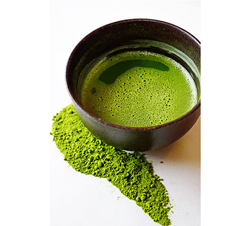 ...It gives me a boost of energy & peace of mind, knowing that I'm helping my body mop up free-radicals to help me stay cancer-free. This has been integral to my recovery routine and is now part of my daily morning ritual for maintaining health & vitality
Boulder, CO (PRWEB) May 29, 2015
Today, The Tea Spot is expanding their organic tea line by adding a USDA NOP Certified Organic Matcha tea in response to a growing demand for high-quality matcha by US consumers. To fill this growing demand, The Tea Spot has sourced a premium organic matcha from a tea garden in the Miyazaki prefecture on the southern island of Kyushu, Japan. This fine stone-ground green tea powder has fresh, vegetal notes in its aroma and taste, and a natural sweetness, free from any bitter aftertaste. This authentic green tea powder is made from purely ground Japanese green tea – without sweeteners, preservatives, additives, or coloring – making it 100% gluten-free and sugar-free. A well-made bowl of high-quality matcha such as this is textured with a frothy head like a perfect espresso with silky crema.
Making a fresh bowl of matcha at home could not be easier. Simply whisk a ½ teaspoon of high-quality green tea powder in a bowl with 8 ounces of hot, but not boiling, water using a traditional bamboo whisk or standard kitchen fork to dissolve the powder. After a minute of vigorous whisking in a zig-zag pattern, a vibrant green tea infusion emerges with a light frothy head. It neither looks like nor tastes like any other type of tea.
Matcha has attained increasing attention in recent years partly because it is a powerful natural source of antioxidants. It is thought to be even more antioxidant-rich than traditional teas since it is the only tea in which the tea leaves are part of the drink and actually ingested, rather than simply extracted into the beverage. For this reason, many health-conscious people are looking to integrate matcha into their daily routines, through a vast variety of foods and beverages.
"For the past 10 years, I have started nearly every day with a bowl of matcha tea in order to kick off my day with a power-shot of antioxidants," states Maria Uspenski, CEO of The Tea Spot. "It gives me a boost of energy and peace of mind, knowing that I'm helping my body mop up free-radicals to help me stay cancer-free. This has been integral to my recovery routine and is now part of my daily morning ritual for maintaining health and vitality."
Tins of The Tea Spot's fresh USDA certified Organic Matcha can be purchased at their online tea store. Small tins (1.4 ounces) retail for $19.95, providing more than 40 servings each, and large tins (5.5 ounces) are available for $48.95, yielding over 150 servings each.
About The Tea Spot: The Tea Spot is a leading producer of handcrafted whole leaf teas and the creator of Steepware®—innovative tools that make the premium tea experience effortless and accessible. The company's focus has held steadfast since the for-profit philanthropic company was founded by Maria Uspenski in 2004, a cancer survivor drawn to the health benefits of leaf tea during her recovery. Her message is simple and powerful: tea in its freshest form renders premium flavor, unmatched health benefits, and is eco-friendly. The Tea Spot's philanthropic 10% Pledge incorporates its mission to foster health and wellness through loose leaf tea. Ten percent of the company's profits are donated in-kind to cancer and community wellness programs. The Tea Spot is a Colorado-based Certified B Corporation, woman-owned and operated business. theteaspot.com