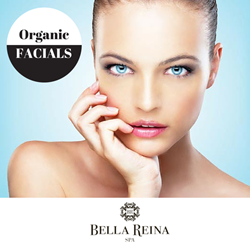 organic, yet my clients get fabulous results
Delray Beach, FL (PRWEB) May 27, 2015
Bella Reina delights facial fans with the recent addition of organic skin care to their facial treatments. The "A" List Delray Beach spa introduces new skin treatments this month with the debut of the Organic Lift & Glow Microcurrent Facial.
The skin care line was developed from natural, sustainable, organic and wildcrafted sources over the last year. The exceptional formulas rely on premium ingredients, active botanicals, and the latest new plant-derived cosmeceuticals. From Butternut Moisturizing Face Wash to the Blueberry Supreme Face Mask, the line delights all of the senses.
Bella Reina Spa understands the need of having organic skin care products that are not only effective but gentle on the skin. Thus, they provide safe exfoliation using ultrasonic microdermabrasion that gently exfoliates, deeply cleanses and clarifies lymph and skin. It also includes double cleansing, massage, enhance boosters, analysis, masking lip and eye repair.
The goal of the Lift & Glow Microcurrent Facial is to enhance the skin quality. The organic skin care products mean that you can rest easy knowing that they will not have any adverse effects on the skin. Additionally, the lasting effects of the ultrasound peptide penetration, keep the skin in tiptop shape for the next 30 days.
Bella Reina has made it a priority to create a team with the most experienced estheticians. Their job is to educate clients on how to better maintain their skin. The company believes that the greatest step in fighting skin problems is not only providing organic skin care, but getting the right education.
When deciding whether to go for the Lift & Glow Microcurrent Facial with organic skin care Delray Beach, FL, it is recommended to get the opinion of an expert in this field. Here is what Master Esthetician, Jo Ann Irwin Diaz has to say about this new treatment, "It amazes me that our new line of organic skin care gets such great results. Plus, I'm using ingredients that are not harmful, which makes our facials even better." For more information on organic facial treatments or organic skin care, contact Bella Reina Spa at 561-404-7670.
About Bella Reina:
Bella Reina is the leading spa provider and definitive authority on luxury beauty, wellness, and spa treatments. Bella Reina was created by Nancy Reagan, a nationally recognized expert in beauty, nutrition, weight loss, skin care, and makeup. Nancy and Bella Reina have been featured in the New York Times, Beauty High, Daily Makeover, WebMD, and Les Nouvelles Esthetique for beauty, spa industry and business expertise. To learn more about how Bella Reina is constantly innovating both spa services, spa memberships and shopping for beauty, please visit http://www.BellaReinaSpa.com or http://www.MiBellaReina.com.