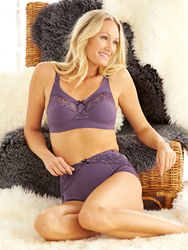 The desire for non-toxic, eco-friendly clothing options that don't exploit workers appeals to people from all walks of life.
Happy Valley, OR (PRWEB) May 10, 2016
Eco-minded, full-figured women now have beautiful options in sustainable lingerie with organic cotton bras in sizes up to 46DDD and panties up to 3XL. FaeriesDance.com, already the web's leading provider of organic cotton bras, is excited to announce the further expansion of their organic intimates line. They've partnered with Swegmark of Sweden, a major European intimates brand that has been offering plus sized lingerie since the 1940s. Swegmark's most recent initiative focuses on sustainability and worker rights. They've started a fully Fair Trade certified line of bras and panties that are knit with Global Organic Textile Standard (GOTS) certified organic cotton yarn, colored with low-impact dyes, and free of chemical finishes.
Women of all sizes will appreciate the wide, comfort shoulder straps and felted under-bust elastic for support without wires. Faerie's Dance has picked up three bra and two panty styles thus far, with three additional pieces scheduled for delivery in early Fall.
"Our customers have been clamoring for sustainable intimates in more sizes." Says Faerie's Dance founder, Adrienne Catone. "The desire for non-toxic, eco-friendly clothing options that don't exploit workers appeals to people from all walks of life."
Swegmark's full figured, no wire bras join Faerie's Dance's extensive existing line of organic and natural bras from around the world, including their exclusive line of organic, padded, underwire bras from Love Nature in Italy; lightly padded, no wire bras made of pine tree prunings from Do You Green in France; and hypoallergenic cotton bras from Cottonique in the Phillipines; to name just a few.
Some women have expressed concern about ordering bras online. However, Faerie's Dance's generous 60-day return policy and easy exchanges make it worth the effort, especially with so few options in eco-friendly intimates available in brick and mortar stores.
About Faerie's Dance
FaeriesDance.com is an eco-friendly e-tailer offering sustainable apparel and specializing in hard-to-find items such as organic cotton lingerie and intimates. The company is named after the mythological woodland creatures that live in the heart of the forest, honor all things in nature, and who celebrate life with joyous abandon. In addition to providing beautiful organic clothing, FaeriesDance.com is committed to providing a complete environmentally-conscious shopping experience for its customers. Their clothing is made from sustainable fabrics and low-impact dyes. The company sources products from both U.S. and overseas manufacturers who ensure that all workers are treated fairly and are safe from sweatshop conditions.