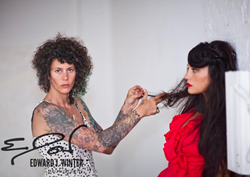 Baltimore, MD (PRWEB) December 18, 2013
Rachael Epstein of Crafted Hair Studio, often cited as one of Baltimore's best edgy and curly hair stylists, has added additional organic hair coloring options by Organic Color Systems.
Epstein, a master stylist and award winning trend setter for edgy hair, curly hair and precision Vidal Sassoon haircuts, is continuing to lead the organic hair care movement by committing to using only organic products and running a green studio.
Back in 2006, Epstein founded Sprout, an Organic Hair Salon. The salon focused on an organic approach to hair care that eliminated the harsh chemicals that wreak havoc on individuals and as well as the environment. There was a built-in niche market for this approach to hair care, and as a result, the studio became a quick success.
After a few years, Epstein decided to take this idea of a healthier approach to hair a step further and opened Crafted Hair Studio. Epstein was committed to making her new studio as green and zero-impact as possible. The Studio was built with recycled materials. The electricity in the studio is generated through wind power. Epstein continued to use only organic hair coloring and other products.
Some refer to it as eco-friendly or green, but for Epstein, this commitment is just a matter of making healthy choices for herself, her clients and her environment. Entering the salon is a unique experience. The usual harsh chemical and ammonia smells that so many people have come to associate with salons are not present. Instead, the client smells coconut and other essential oils.
Epstein's clientele has grown over the past few years and she assumes this will continue as she remains committed to this healthier approach to hair care.
Rachael Epstein is an award winning Vidal Sasson trained stylist who is committed to crafting unique and stunning styles for men, women and children. She was the original founder of Sprout, an Organic Hair Salon, prior to opening Crafted Hair Studio, and is frequently listed as one of Baltimore's best hair stylists. Respected for her creative wild cuts and color also known for Vidal Sasson precision cuts. Being a curly girl herself has afforded Rachael the ability to see within the hair, and has allowed her an understanding of how to create maximum curls.