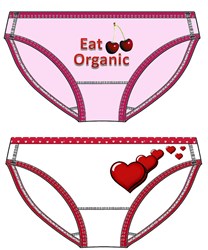 Customer feedback over the years allowed us to take what worked and make minor improvements on previous best-sellers.
Happy Valley, OR (PRWEB) December 12, 2013
Online retailer FaeriesDance.com specializes in eco-friendly lingerie. Unfortunately, in today's tough market small, eco-lingerie manufacturers are an endangered species. Perfectly Imperfect, Good Karma Lingerie, Bueno Style, and many more have gone out of business in the last few years, leaving FaeriesDance.com's founder, Adrienne Catone, in a constant hunt to maintain a good selection. With a growing customer base and high demand for organic lingerie, Adrienne decided it was time for FaeriesDance.com to manufacture their own custom line. Green Tree Organic Clothing was born of that vision. Unlike most of the organic underwear that can be found today, this line is beautiful, affordable and made in the USA.
Green Tree Organic Clothing will roll out its product line in three distinct phases throughout 2014. By February, a line of five women's organic cotton panty styles will be available exclusively at FaeriesDance.com. The initial line consists of a bikini, hi cut brief and hipster in solid colors plus two printed styles. The three solids will retail for $12 each, while the two prints, a cheeky "Eat Organic" print and a romantic "Hearts Aflutter" design, will list for $16. A second product launch in summer and a third in fall will include a string bikini, full brief, thong, camisole, lounge pieces and men's underwear. The possibility of highly sought-after organic cotton bras is also being considered.
Faerie's Dance modeled this first set of organic panties from styles that sold well but are no longer available from other manufacturers. According to Adrienne, "Customer feedback over the years allowed us to take what worked and make minor improvements on previous best-sellers. We're thrilled to be able to produce a line with built-in appeal."
The sewing is being done locally in a small, family-owned shop in Oregon. As the line grows, they expect to expand into the much larger California sewing market.
Initially, the line will only be available at FaeriesDance.com, but expansion into wholesale is in the works.
About FaeriesDance.com
FaeriesDance.com, an eco-friendly e-tailer, offers sustainable apparel and specializes in hard-to-find items such as organic cotton bras and lingerie. FaeriesDance.com sources clothing made from sustainable fabrics and low-impact dyes. They work with both US manufactures and overseas manufacturers who ensure all workers are treated fairly and are safe from sweatshop conditions. The company is named after the mythological woodland creatures that live in the heart of the forest, honor all things in nature, and who celebrate life with joyous abandon.