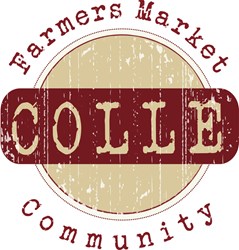 Bohemia, NY (PRWEB) December 14, 2013
Colle Farmers Market, an advocate for local vegetables, responds to an article published by the Public News Service on December 4th, which reveals that at least 11 Christmas tree farms across North Carolina are growing organic trees.
According to the Public News Service article entitled "NC Christmas Tree Farms Go Red and 'Green' for the Holiday," organic tree farms have been sprouting up all over North Carolina, due to a growing number of families that are looking for "spray free" trees.
Families across the country are now buying organic food to keep chemicals out of their home and bodies. However, most fail to realize that Christmas trees are among the most toxic products grown on a farm. Most tree farms use large amount of pesticides that endanger workers and the water supply. Taking into account the long periods of time needed to grow a Christmas tree for sale, there could still be a large amount of toxic pesticide residue that coats each tree.
The article says tree farmer Douglas Murphy, who owns Murphy's Tree Farm and Nursery in Sparta, North Carolina, is in the process of certifying his Christmas trees as organic. He believes that organic trees can find a place in the $75 million a year industry. "I'm getting calls from all over the United States. There is a market out there," he says in the article. "I think it's somewhat of a niche market, but I think it's a necessary market. I think there's people who are really wanting to buy a really good, premium tree that has been grown organically."
A representative from Colle Farmers Market, an advocate of local vegetables, applauds people for broadening the organic Christmas tree market. "Just because you are not ingesting an object does not mean it is safe to have in your home! There are many health concerns involving non-organic Christmas trees. Most people are unaware of the heavy pesticide use and it's time people began to raise awareness for this issue. We hope that more families take a serious look at how their Christmas trees are grown. If you have any concerns, you may want to consider purchasing an organic tree."
The representative from Colle Farmers Market hopes the organic movement continues to grow into the world of non-edible goods. "Trees grow in the forest organically and there's no reason why Christmas trees should be coated with chemicals. We are delighted to hear about the organic tree movement, and believe it is a step in the right direction."
Colle Farmers Market is an E-Commerce enabled community that is passionate about sustainable consumption and responsible conservation. The Colle movement is dedicated to connecting natural product vendors, organic farmers and all people who are living an organic and natural lifestyle.