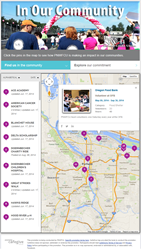 PNWFCU has always been proactive about giving back to our community, but I don't think our members were aware of just how much we were actually doing
Portland, OR (PRWEB) September 24, 2014
Social impact has gone mainstream and several businesses are already ahead of the curve, thanks to cause marketing app provider CafeGive Social.. This month, Pacific NW Federal Credit Union (PNWFCU) launched its Social Impact Profile, a new Facebook-ready app that tracks and shares their community involvement, charitable giving, and social and environmental impact.
According to a new Nielsen report, 55% of people are willing to pay more for products and services from companies that give back. More customers than ever before want to know that companies are committed to positive social and environmental impact, and many of them use social media to find out about companies' Social Responsibility efforts.
Developed by CafeGive Social, the new Social Impact Profile (SIP) tool presents an at-a-glance overview of an organization's social impact: donations, volunteer hours, nonprofit partners, fundraising events, and more. In contrast with a traditional corporate social responsibility (CSR) report, SIP is dynamic and interactive; supporters are able to see social impact information update as it occurs, in an intuitive map and infographic format.
Some businesses and organizations, like PNWFCU, are being proactive about their community impact reporting by using social to share their great work with current members, and to connect to new customers and fans.
"PNWFCU has always been proactive about giving back to our community in so many ways, however, I don't think our members were aware of just how much we were actually doing," said Dana Eaton, PNWFCU's Vice President of Marketing & Member Services. "Now with the use of our SIP, our members are able to easily see where and how we are contributing—whether it is volunteer hours or financial donations."
These SIP launches coincide with a major milestone for the B Corporation movement, which recently celebrated reaching over 1,100 B Corps in 35 countries and 121 industries.
Certified B Corporations, or B Corps, are a new type of company that help solve social and environmental issues using the power of business. Nonprofit B Lab certifies and rates each B Corp on diligent measures of performance, accountability, and transparency. Like Fair Trade and USDA Organic certifications, B Corp certification is thorough and conclusive. By becoming a B Corp, companies can show consumers, partners, investors, and fans that they are not only part of a growing movement to make the world a better place, but are legally obligated to live up to that promise through every aspect of infrastructure and business. Companies that have risen to the challenge include Ben & Jerry's, Patagonia, Etsy, CafeGive Social, and Warby Parker.
As the socially responsible business practices catch on, investors, outlets, and media personalities are taking notice. The New Yorker and the Wall Street Journal have each published in-depth write-ups on the B Corp movement.
But even before there were B Corporations, there were credit unions like PNWFCU. Community involvement is at the core of what credit unions are about, and now they stand at the forefront of a technology that makes their giving, volunteerism, and community programs accessible to all.
Eaton credits CafeGive Social's social media-powered apps as critical tools in bringing credit unions' "People Helping People" philosophy to life in the Digital Age.
"Social media is a great way to quickly get our message out about topics and causes that are important to us," she said. "Our goal is to engage more members and broaden our social impact through cause and word-of-mouth marketing. We hope that by actively sharing our credit union's involvement through social avenues, we'll see more people talking about and supporting relevant issues and causes."
About CafeGive Social
CafeGive Social is the only company that combines social media marketing with meaningful, action-oriented cause marketing applications and solutions. Our products and services have helped companies, agencies and nonprofits of all sizes connect with customers to build brand, enhance reputation, raise awareness and effect social change. Headquartered in Portland, Oregon, CafeGive Social is a privately held company.
About Pacific NW Federal Credit Union
Pacific NW Federal Credit Union is a member-owned financial cooperative existing to provide high quality products and services, which enable our membership to achieve financial health and independence. They offer credit union services to over 300 federal agencies and select employee groups. PNWFCU is a $150 million credit union with over 16,000 members, enjoying a full range of personal and business products and services.
About B Corp
Certified B Corporations meet rigorous standards of social and environmental performance, legally expand their corporate responsibilities to include consideration of stakeholder interests, and build collective voice through the power of the unifying B Corporation brand. As of September 2013, there are more than 800 Certified B Corporations from over 60 industries and 28 countries, representing a diverse multi-billion dollar marketplace.
About B Lab
B Lab is a nonprofit organization that serves a global movement to redefine success in business so that all companies compete not only to be the best in the world, but the best for the world. B Lab drives this systemic change through a number of interrelated initiative: 1) building a community of Certified B Corporations to make it easier for all of us to tell the difference between "good companies" and good marketing; 2) passing legislation to accelerate growth of social entrepreneurship and impact investing; 3) driving capital to high impact investments through the use of GIIRS Ratings and Analytics; and 4) providing free, powerful tools for businesses to measure, compare and improve their social and environmental performance (more than 7,000 businesses use B Lab's free B Impact Assessment).