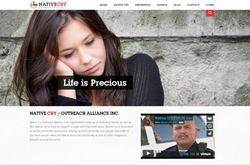 We all come from a tribe of people, we all need community, we all need connection; NativeCry is working hard to provide that support - Dr. Ron Sheffield
Williamsburg, Virginia (PRWEB) October 23, 2014
OrgScience, Inc., has donated services to provide support for the NativeCry Outreach Alliance, Inc. (NCOA). The firm delivered marketing consultation and a content management system (CMS) that provides donation and member tracking capability. Dr. Sheffield, a member of the Quechan Tribe of Fort Yuma, Arizona, as well as President and Managing Director of OrgScience Inc., created an alliance with NativeCry for the purpose of giving back to the Native community.
As an acting member of the NCOA Board of Directors, Dr. Sheffield feels, "privileged to be surrounded by people who genuinely care for others and understand that everyone needs support at one time or another." Sheffield says, "We all come from a tribe of people, we all need community, we all need connection; NativeCry is working hard to provide that support. This site is one more step in spreading awareness and providing help when help is needed."
NativeCry Outreach Alliance Executive Director, Rayna Madero agrees, "Creating awareness is key to fighting this ugly monster called depression." Having lost family members and friends to suicide, Madero feels that partnering with OrgScience is a pivotal step in the battle against this disease within the Native American community.
NativeCry Outreach Alliance, Inc. is a non-profit organization consisting of Native and Non-Native Americans dedicated to suicide prevention, awareness, education, and providing support for those affected by suicide. (http://www.NativeCry.org)
About OrgScienceSM, Inc.:
Organizational Sciences and Culture, Inc. provides leadership training & coaching, process improvement, and management consulting designed to support business health. OrgScience, Inc. is a registered and certified Minority Business Enterprise (M.B.E. – CA44199) with the National Minority Supplier Development Council and a recognized Native American, privately held management consulting firm based in Williamsburg, Virginia.