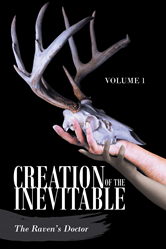 WINTER PARK, Fla. (PRWEB) May 16, 2022
The author known as The Raven's Doctor has released his first fantasy novel "Creation of the Inevitable." Part of what will become a multi-book series, the story takes place in a world of magic, where people are not hindered by the limitations of their mortal bodies.
"Creation of the Inevitable" follows protagonist Malcom Doxon, who spends his days bedridden by illness. Malcom's multiple ailments leave him struggling to see a bright future, when his days are riddled with doctors visits, broken bones and other physical ailments. But everything changes for him after he wakes up in an entirely different world. He finds himself not just healthy, but able to wield magic.
Malcom's transition into a new world gives him a new lease on life, and his magical abilities allow him to do things he only ever dreamed of. In this story of enchantment, the author gives readers the chance to enter a whole new world.
"The book is an 'isekai' story," the author explained. "It's a Japanese term for a story where the protagonist finds themselves trapped in another world. It's a story for people who love dark fantasy."
With the release of "Creation of the Inevitable," The Raven's Doctor hopes to create an impression on readers that lasts for years to come.
"Creation of the Inevitable: Volume One"
By The Raven's Doctor
ISBN: 9781663233899 (softcover); 9781663233905 (electronic)
Available at iUniverse, Amazon and Barnes & Noble
About the author
The Raven's Doctor strives to make a lasting impression through his writing, as writing is a major joy in his life. He hopes to build a community, of dark fantasy fans who will enjoy his books for years to come. He plans to continue the "Creation of the Inevitable" series in additional volumes. For more information, please visit https://www.iuniverse.com/en/bookstore/bookdetails/835201-creation-of-the-inevitable.
###
General Inquiries:
LAVIDGE – Phoenix
Ashley Fletcher
Afletcher@lavidge.com