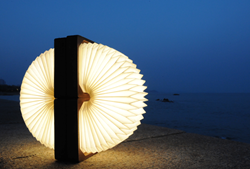 We designed Orilamp to have many features that make creating the perfect mood simple and Orilamp fun to play with.
Toronto, Canada (PRWEB) February 18, 2016
Orilamp is the world's first smart origami lamp. This smart and versatile lamp is portable, bendable and adjustable to fit the mood anytime of day, anywhere. Currently, Orilamp is hosting an Indiegogo campaign with a goal to raise $50,000. So far, Orilamp is more than halfway funded, raising $27,750 from 155 backers.
What makes Orilamp so unique is the smart functionality of the lamp. Unlike other origami lamps, Orilamp uses a free application that is compatible with iOS and Android phones to fully control all of Orilamp's innovative features.
"We designed Orilamp to have many features that make creating the perfect mood simple and Orilamp fun to play with," Orilamp Co-Founder David Ha said. "The app allows users to adjust the brightness at their fingertips, monitor battery life and even schedule auto on/off to save energy when they are not using it."
Another feature of Orilamp that makes this smart lamp so unique is the gradual, natural alarm. Users can set their alarm within the Orilamp application to wake them up with gradual light for the few seconds before their alarm goes off. This feature gives the user the sense of a gradual sunrise, thus helping them wake up and get a fresh start to every day.
When Orilamp is extended, it looks like a beautiful lamp that can bend and fold in various ways. From a beautiful full circle design for the living room to a bright hanging lantern for the patio, Orilamp is a smart lamp that is designed to fit into nearly any setting. When Orilamp is not extended, the lamp folds up like an accordion into a tiny wooden box that is both minimalist and modern.
Orilamp will be available for pre-order for one more month on Indiegogo. Early Bird rewards are still available starting at $89, which is 40% off the future retail price of $149. Each Orilamp comes with the option of American Black Walnut or German Blonde Birchwood covers. For more information, please visit the Orilamp Indiegogo page at bit.ly/OrilampIndie.
ABOUT ORILAMP
Created by Toronto-based engineers and designers, Orilamp is a Bluetooth-enabled, multi-purpose modern lamp designed to meet your everyday lighting needs with a creative twist. As a new lighting solution that blends art, design and technology, Orilamp is changing the way people see the world. For more information on Orilamp, please visit http://www.orilamps.com.