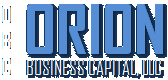 Working with us will allow you to maintain focus on what is most important – running your business
Scottsdale, AZ (PRWEB) March 25, 2015
Orion Business Capital, a company that connects its clients with accounts receivable financing services, recently announced the launch of its new website. The company's website, which provides information about invoice factoring, PO financing, asset-based lending and more—all at no cost—is now available for viewing at https://www.orionbusinesscapital.com/.
According to an article available on Orion Business Capital's website, factoring, which is often referred to as "accounts receivable financing," is a popular financing method that involves the selling of invoices by a business to a finance organization for immediate cash. The finance organization, which is known as the factor, provides the business with an advance that can total 80 to 95 percent of the gross invoice value. Factoring allows businesses to sell invoices immediately instead of waiting to collect from customers, and is an excellent solution for a business that is unable to obtain traditional bank financing.
Invoice factoring is helpful to companies because it allows them to obtain the working capital they need to grow by monetizing their invoices immediately. Additionally, factoring often helps remove companies from the burdensome collections process, which allows them to be more productive. Companies who factor their invoices find that there are no limits to the amount of invoices that can be factored; that their cash flows can be customized and managed; and that their credit does not matter, specifically because factoring depends on the credit worthiness of their customers.
Since opening its doors, Orion Business Capital has established itself as an advocate for its clients, working tirelessly to place them with the ideal funding source. Orion Business Capital works as a broker between regular businesses and factoring companies, and prides itself on its efficiency, advocacy, transparency, and complimentary services.
"It's simple—by working with us, your business will realize benefits that you would otherwise forego," stated a spokesperson of Orion Business Capital. "While your business can work directly with a number of these companies, the search for the best funding source can be complicated and extremely time consuming. Working with us will allow you to maintain focus on what is most important – running your business."
Individuals interested in learning more about Orion Business Capital and its work with invoice factoring companies and other direct lenders can visit the broker's website for more information. Clients are also invited to contact Orion Business Capital with questions or comments about its services.
About Orion Business Capital:
Orion Business Capital is a Scottsdale, AZ based company that connects businesses with custom-tailored working capital solutions regardless of size, industry, or location. Through its nationwide network of factoring companies and other direct lenders, OBC provides immediate access to invoice factoring, purchase order financing, and other asset-based lending programs. All of Orion Business Capital's services are offered at no cost to the client. For more information, please visit http://www.orionbusinesscapital.com