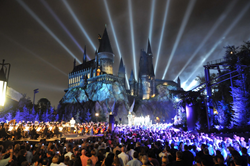 Staying in villas in areas close to the theme parks is more flexible, more spacious and more affordable than staying in a hotel.
(PRWEB UK) 19 March 2014
Attracting around 55 million visitors each year, the city of Orlando at the heart of America's 'Sunshine State' – Florida – is undoubtedly one of the world's most popular holiday destinations. Recently named as one of the Top 10 Holiday Rental Destinations in 2014, Orlando enjoys year-round warmth and is perfect for families seeking a fun-packed and sunny Easter holiday thanks to the city's abundance of theme parks. Whilst any of Orlando's legendary theme parks might justify a holiday to America's most-visited city, the UK's leading holiday rentals website, AlphaHolidayLettings.com have revealed their choice of the top five Orlando Theme Parks to visit for a truly unforgettable Easter 2014 holiday.
1. Universal Studios
Who wouldn't be thrilled by experiencing the world of the silver screen for themselves? Whether your dream is to meet the mighty Transformers, fall under Harry Potter's spell, party on down with the Blues Brothers or be scared out of your wits by the Terminator, Universal Studios offers adventures galore for everyone, as well as an outstanding selection of shops, restaurants, live shows and nightlife.
2. Disney's Magic Kingdom
The world's most-visited theme park in 2012, Magic Kingdom at Disney World Orlando has been making wishes come true for over forty years, and in 2014 is better than ever thanks to the expansion of the park's 'Fantasyland' area. Fantasyland is just one of six themed areas; the others, Adventureland, Frontierland, Liberty Square, Tomorrowland and Main Street, U.S.A, each offer a host of exciting and enjoyable rides, shows and attractions plus, of course, the chance to meet everyone's favourite Disney characters.
3. Disney's Epcot
Twice the size of Disney's Magic Kingdom, the Experimental Prototype Community of Tomorrow – EPCOT for short, is a theme park dedicated to human innovation. Dominated by the vast and iconic silver sphere, 'Spaceship Earth', EPCOT offers two distinct areas. Future World is packed with exciting and futuristic rides and attractions based upon science and technology that will fire the imagination of kids and adults of all ages. World Showcase, meanwhile, captures the essence and colourful cultures of eleven different countries from around the world.
4. Seaworld Orlando
The famous Seaworld theme park is an absolute must for anyone who loves the life aquatic, and offers the opportunity for close personal encounters with dolphins, penguins, sea lions and even whales! Add in a healthy assortment of white-knuckle rollercoasters and thrill rides, entertaining wildlife shows, plenty of great shops, restaurants and exhibits and it's easy to see why Seaworld Orlando continues to be one of the most popular theme parks on the planet.
5. Legoland
Based upon everyone's favourite childhood toy, Legoland is Orlando's newest and brightest theme park. Set over 150 acres, the park offers more than fifty exhilarating rides, shows and other attractions and includes a water park and stunning botanical gardens and is the largest Legoland in the world. Kids, of course, will love Legoland Orlando but there's plenty here for the whole family to explore and enjoy.
The beauty of an Easter break to Orlando is that accommodation needn't break the bank thanks to the availability of a wide range of self-catering villas and apartments to please every possible family and budget, with a three bedroom villa in Orlando Disney area costing as little as £300 per week. As Tom Lei from Alpha Holiday Lettings says, "Staying in villas in areas close to the theme parks is more flexible, more spacious and more affordable than staying in a hotel." And since most of Florida's villas come complete with their own private swimming pool, it's easy to relax and chill out after an exciting day exploring any of Orlando's amazing theme parks.
About Alpha Holiday Lettings
Alpha Holiday Lettings has rapidly established itself as one of the top holiday rentals portal sites in Europe and offers self-catering villas, cottages and holiday apartments in Spain, England, France, Portugal, Italy, Cyprus, Turkey and other destinations around the world. The majority of the properties listed on Alpha Holiday Lettings are privately owned and are booked directly with holiday home owners. For more information, visit http://www.alphaholidaylettings.com.