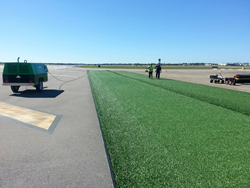 The synthetic turf backing provides a barrier to burrowing wildlife, while still maintaining a clear runway path and safety zones for airport operations.
Austin, Texas (PRWEB) November 19, 2014
When hundreds of burrowing gopher tortoises made home in Orlando Sanford International's runway grass, the unassuming reptiles created a glaring problem for airport operational safety.
The solution? Replace the natural grass with artificial turf.
"The aviation turf backing provides a barrier to burrowing wildlife, while still maintaining a clear runway path and safety zones for airport operations," explains Daniel McSwain, AvTurf general manager.
Because gopher tortoises are a threatened species, relocating the animals and closing the burrows was a regulated process, as well as extremely time-consuming and costly for the airport. Nearly 1,200 burrows—some stretching 48 feet long and almost 10 feet deep—were documented in a survey last June by FAA Wildlife Biologist John Weller. And once removed, the tortoises typically find their way back to re-burrow.
After consulting with FAA's Airport Division and Airport District Office, biologists from the U.S. Department of Agriculture, and the state and U.S. Fish and Wildlife Services, the airport secured grant money for a one-year study of the effectiveness of replacing natural grass with synthetic turf.
The AvTurf artificial turf was manufactured by Act Global, and installed by partner ProGrass on a 3.5 acre test plot around the perimeter of the runway's blast pad. The plot includes 158,000 square feet of aviation turf in total with a sand infill ballast.
Prior to installation, a biologist mapped approximately 120 existing burrows on the test plot, nearly 100 of which were occupied. The turtles were carefully removed, the area excavated, and the artificial turf installed. Motion activated cameras are used to monitor the area 24/7 and detect signs of wildlife or burrowing. Eight months after installation, the airport has detected no burrowing activity on the synthetic turf.
Aside from Orlando Sanford, encounters with wildlife, particularly birds, are a major concern in both the civil aviation and military environments around the world. Annually, wildlife collisions cost the U.S. aviation industry over $1.2 billion and cause aircraft downtime in excess of 94,000 hours. Because the most dangerous and frequent encounters occur during take-off and landing, efforts have been directed to ensure wildlife control on the airfield. McSwain explained that synthetic aviation turf provides a non-lethal solution to mitigate wildlife and reduce the potential for bird strikes by removing food, water, or shelter near the runways.
ABOUT ACT GLOBAL
Act Global is a world leader in synthetic turf and artificial grass manufacturing. The company's artificial Xtreme Turf and Xtreme Lawn products replicate natural grass for use in international stadiums, indoor sport centers, synthetic lawns and other synthetic grass uses. Its LiteEarth and AvTurf products add capabilities for landfills and airport applications. Act Global has four manufacturing locations in USA, Europe and Asia and installations in over 70 countries. Act Global is notable for currently being the first company in the world that is a FIFA Preferred Producer for Football Turf, Synthetic Turf Council Certified Manufacturer, IRB Preferred Producer, and holds an ISO 9001 certification. Its products have undergone hundreds of independent laboratory tests for quality, durability and performance.