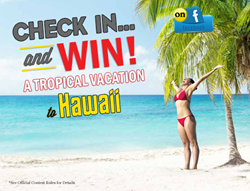 "It is an amazing promotion," said Pleasant Lewis, Owner of Gold's Gym Orlando "and we are thrilled to bring this to our members."
Orlando, Fl (PRWEB) May 01, 2014
What could be better than a tropical vacation to one of the most exotic destinations in the world? Members of Gold's Gym Altamonte Springs, Clermont, Dr. Phillips/Orlando, Mount Dora and St Cloud (in conjunction with health clubs from 13 other states) will have an opportunity to win the luxury vacation by checking in on Facebook every time they work out. The program is designed as a reward for staying in great shape since members will need to check-in on Facebook at one of the participating local Gold's Gyms at least 35 times in 90 days to qualify for the vacation. "It is an amazing promotion and we are thrilled to bring this to our members," said Pleasant Lewis, owner of five Central Florida Gold's Gym locations.
A Hawaiian vacation is a dream all in its own. The sandy beaches, clear blue water, unbeatable surf and astonishing sunshine are just some of the remarkable things when thinking of the paradise that is Hawaii. And now every gym member has a chance to visit that bliss. Just hearing the words Hawaii is enough to make one see visions of Polynesian dancers with grass skirts and leis right in one's living room. In Honolulu, one will find some of the best art museums, historic Pearl Harbor and some of the most majestic scenery in the world. While visiting Hawaii, do not miss the great surf and soft sands at Waikiki Beach. For those who are looking for adventure, make sure to visit the Diamond Head, a 350-acre volcanic crater where at the very top has the most awe inspiring views that one may ever see.
Readers might remember that a similar contest run at Gold's Gym Orlando this fall for a plasma television. The contest had amazing success and the television was won by a soldier, who then selflessly donated his brand new television to a local charity, Dads Appreciating Down Syndrome.
"We believe a prize of this magnitude and value makes this contest a first of its kind," say Bill Konstand, President of TAG Business Strategies, the company which is sponsoring the contest. TAG plans to run similar contests for all participating Gold's Gym locations every year with new and unbelievable prizes that each gym member will have an opportunity to win.
About TAG Business Strategies:
TAG Business Strategies has been a proven leader in online marketing and supplemental franchise marketing since 1999. TAG is a BBB rated A+ company and a certified partner of Google and major PPC engines. With innovative marketing techniques and a true sense of the evolution of marketing, TAG keeps clients a step ahead of the competition. In addition to hundreds of small/medium businesses and franchises across the USA, TAG Business Strategies also boasts fortune 500 clients like Pulte Homes USA.
To learn more about TAG Business Strategies and the solutions the company can offer, visit http://www.TAGBusinessStrategies.com.