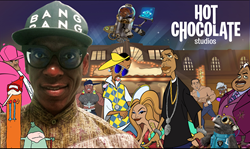 Entertainment moves blindingly fast these days, and fans want to stay engaged 365 days a year. We've found a way for animation to deliver that, and give fans the ability to create their own animation as well.
Brooklyn, NY (PRWEB) July 25, 2017
Comedian and actor Orlando Jones, fresh off his role as Anansi in Starz' acclaimed new series American Gods, has some big ideas on how animation can keep up in today's media world. To put these ideas in practice, he's launching HOT Chocolate Studios, a new model of animation content studio, along with animation and tech industry veterans Harold Moss and Tom Vedel. Here's what he had to say about his new venture.
Why start an animation studio?
I've been a hard-core animation fan since Mad magazine. Nearly pissed myself when I got to audition for Mad TV. Then Jeffrey Katzenberg and Leslie Feldman cast me in Father of the Pride on NBC. Suddenly, I was working on the most expensive CGI animated TV show ever produced. I learned so much from the Dreamworks animation team. In 2005, I started producing diversity focused animation for mobile, digital, and broadcast TV. The adventures of Chico & Guapo on MTV2 was the first multicultural, multi-platform content Viacom ever put on iTunes. It still airs throughout Latin America. 
Why is the studio called HOT Chocolate?
HOT equals Harold, Orlando & Tom. The Chocolate part is just how we feel about the delicious mix of animation and technology.
Harold Moss is an Award-winning animator and founder of New York animation house FlickerLab. He's collaborated with Michael Moore, Stephen Colbert and done films, television projects, political campaigns, educational series, interactive learning systems, games, apps, e-books, and a few things that don't have categories yet. Harold is heading up production for HOT Chocolate.
Our final partner, Tom Vedel, is a true media pioneer who's invented multiple revolutionary live animation and broadcast production platforms, all of which led to the creation of Animgram, the core technology that powers HOT Chocolate. Animgram gives us the power to make animation live, and also lets fans easily make their own animation.
Our tech is pretty magical, and helps us pull off the impossible. But tech on its own isn't entertainment. It's the combination of the technology, with my background in storytelling and the incredible network of writers, actors, and comedians I've spent my career working with, that gives HOT its super powers.
What's special about our studio is the joining of this network of talent, the tech that lets us make timely animation, and how it empowers fans by giving them the tools to tell their stories and make animation along with us.
So fans can really become creators? How does that work?
The process of becoming a fan begins with being inspired by someone's work. Everyone in the entertainment business started out as a fan. They saw a show and said, "I want to be an actor, writer, animator, do voices, direct, whatevs." Job one for us to make shows that inspire people like that. Then, we hand them the tools to create their own versions of the story and share them. All you have to do is download the Animgram app, make an animation with your voice and a couple of swipes, and share your creation. It's very simple.
Do you have any new shows coming out? What kind of stories do you have in development?
Tom, Harold & myself have created thousands of hours of animated and mixed-media content for global broadcasters like BBC, Bleacher Report, Comedy Central, BET, Adult Swim, Nickelodeon, MTV, VH1, Sesame, and Disney. We have a few new shows launching, including a daily animated show around the upcoming elections in Germany.
As far as development, we're developing some totally new formats, including daily animation, animation based on social media, and shows that fans help animate, including a a daily animated late night show that I'll be voicing along with some incredible comedians. Never been done. We've got a show where we bring on a bunch of comedians and animate their funniest 5 minutes. We're also updating some classic formats, like an animated sitcom based on my own family's craziness.
With places like Netflix & Amazon allowing fans to binge watch shows, how do you plan to keep up with the increasing demands audiences put on content creators?
Entertainment moves blindingly fast these days, and fans want to stay engaged 365 days a year. But animation hasn't been able to deliver on that. I've spent the last decade looking for the way to solve this problem. When I saw Animgram, and met Harold and Tom, it was clear to me that we could finally create on-demand, timely animation in a way that scaled and worked. Our proprietary live-animation platform lets us create original projects specifically designed to fuse with the way people are watching their media today.